Super Falcons star, Michelle Alozie took Nigerians aback after she showed off her husband on Instagram.
The female defender via her Instagram story posted a photo of herself posing with a white lady.
She further described the lady as her husband which raised the eyebrows of many.
See below: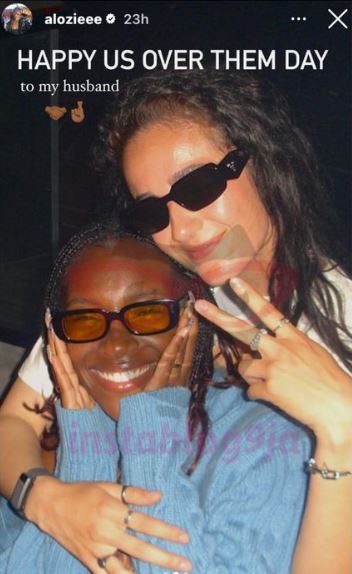 In reaction, netizens took to the comment section to share their thoughts as regards the post.
Comedian Sabinus wrote: "Women dragging women with men !! Signs of endtime."
Daddy Freeze wrote: "I dey expect one correct guy 😢."
hypeman.morgan wrote: "Most of this famale ballers cnt really cope with marriage cos bruhhh this ladies be looking masculine and muscular!! so am not surprised wen dey end up as Les."
gongthetuff wrote: "Make I off u she's probably not gay,pay attention there is a narrative being pushed out there. The depopulation scheme is well funded that's why u see white men fund LGBTQ movement not because they don't know it's immoral but because of interest(depopulation) they will do whatever to achieve this. If our parents were gay would there be us to even start the LGBTQ conversation? For me it's a devilish act! And should not be encouraged!."
odun___07 wrote: "Make any werey girl sha no drag my future wife with me."
moponz wrote: "We was crushing on her she was with a lady !! God when you guys coming lol."
instantafrik wrote: "Better gbola never touch am 😂 she go switch 😂asap."
ms.ivvey99 wrote: "She's not fine again? Lmao. Shebi Men were the ones praising her for her beauty and what not 😂😂😂. You people don't find her attractive again? Damn it."