Movie star, Judy Austin has ultimately proved that things are no longer well with her and her bestie, Sarah Martins as she yanks off all posts related to her on her Instagram page.
Sarah Martins withdrew her support for Judy Austin and the duo clashed.
Sarah Martins on her part is currently dragging Judy Austin over an alleged debt.
Amid the rising tension between the two friends, Judy Austin deleted all posts about Sarah Martins on her page.
A survey conducted on her page shows that the birthday posts and other advertisement videos pertaining to Sarah Martins' brand are nowhere to be found.
Additionally, she dropped a short note, thanking God for all he has done for her and her family.
In her words:
"Thank you Jesus!!! Thank you Lord for all you do for me and my family.
May your Name be Forever Glorified Amen."
See the post below: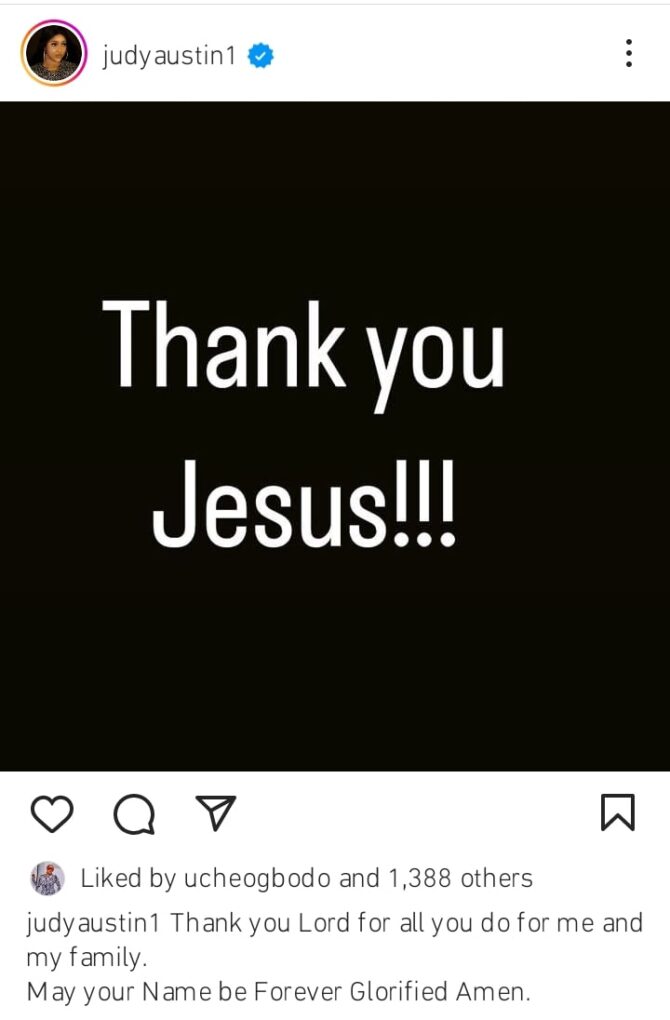 Judy Austin's move triggered a frenzy online and subsequently got people talking.
shomie_thickana wrote: "Small thing sarah said against you; fiam u don run delete sarah pictures, what if yul now do to you what he did to May nko???? You go survive am???😂😂😂😂😂😂."
jocelyndoeni wrote: "He who laughs last laughs the best. You used your friend to say despicable lies about a person who did you all no wrong. More Karma for you. Destroyed your destiny all because of a man who might betray you tomorrow. Judy repent. God loves you so he is surely going to chastise you. You will feel uncomfortable in this relationship with Yul until you leave abd find your destiny. Save this comment you will refer to it some day🙌."
onyediozioma wrote: "The most hated Nigerian celebrity 😢. Wat a shame , it's not to late to repent ooo."
titikcee wrote: "Sarah said we should tell you to send her one million back into her account."
continua.99 wrote: "A home built on someone's tears won't last. Aanything that doesn't start right, never ends right. Judy you left your own marriage just to destroy another woman's home. Now look at how you are clothed with shame and dishonour. Sarah has left your £vil gang, carry your cross alone."