Nollywood actress, Iyabo Ojo has sent a message to the Nigerian police.
Following the arrest of embattled singer, Naira Marley and his aide, Sam Larry, the movie star demanded the police share photos and videos of them in their custody.
According to her, she doesn't believe the video of them arriving at the airport.
"That bojuboju video of Sam Larry & Naira Marley, arriving from the airport, I don't believe it.
Make them show us their real face for police custody".
Post below….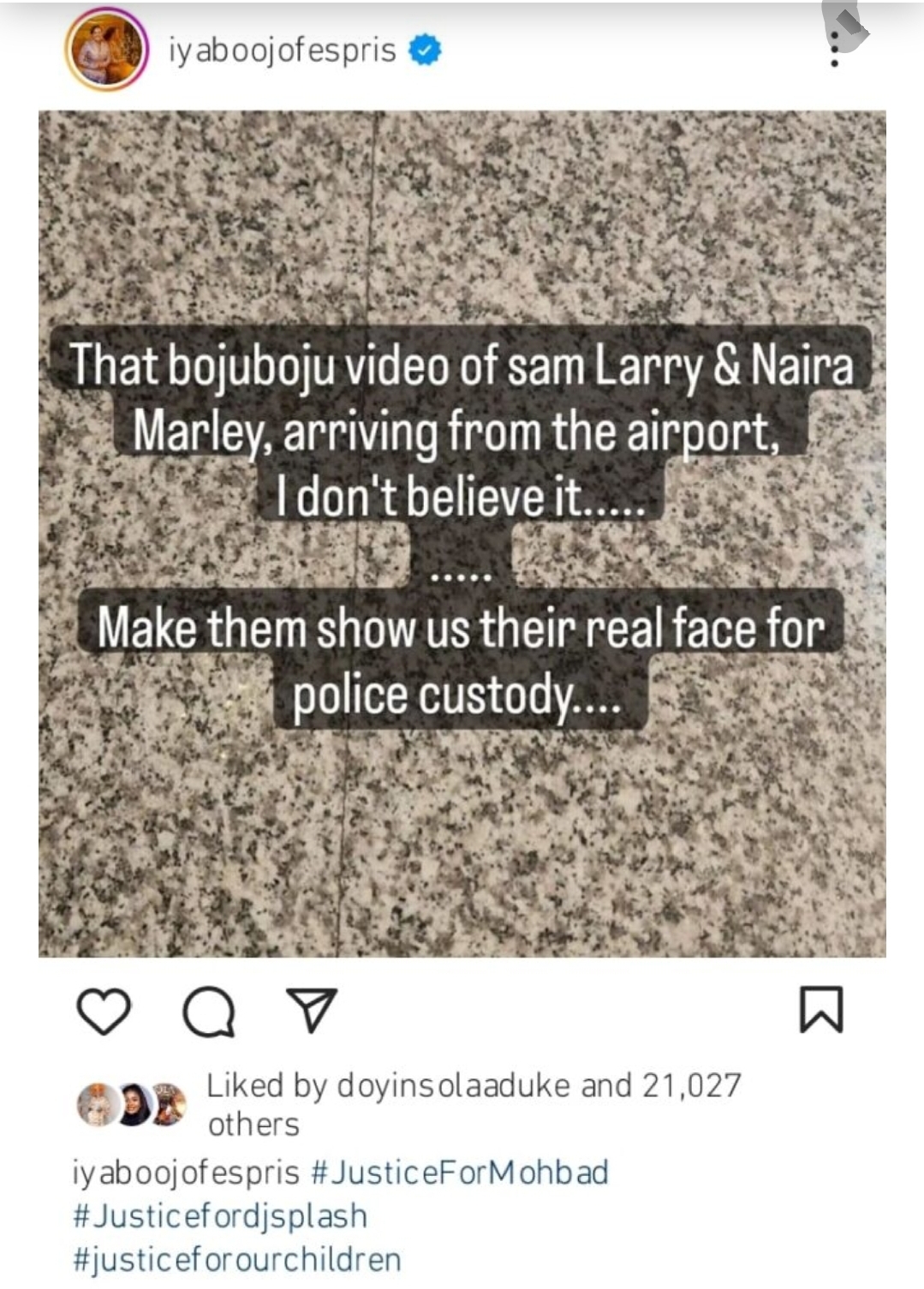 Taking to his comment section while many concurred with her, others slammed her for interfering in the investigation.
One Callis Field Properties wrote, "When the police invited Mohbad's parents and relatives for interrogation. It was recorded. We all saw the video. Why were they not recording Sam Larry and Naira Marley when they were invited to the station??
One Ayoola Salaam wrote, "Very right they should show their face
One Zoe Testimony wrote, "My thought too!! We need to see them to believe. And how are we even sure the guy they claim to be Naira Marley that came in disguised was truly Naira Marley?? Hmmm na wa ooo
One Peace Of Mind wrote, "You see all the delay tactics, it won't favor both the police and the culprits
One Future Minister wrote, "I don't believe shit! Except he cut off his dreads, that head was too flat to have had them dreads underneath. Some bs! I don't believe that shit. The way Nigerians know how to make videos but suddenly couldn't get clean videos of the most "most wanted" beats me. They're chilling somewhere and laughing at us
One Glow By Mo Organic Skincare Palace wrote, "Honestly, Seun Kuti was parade openly and embarrassed so what so special about these two people. I think a protest is what will do
One Official Sam Olatunji wrote, "Ha! IY, it's true o. I saw Naira with my two eyes. Court remanded them today though. Why do you think Mohbad's death is strictly about Naira and Sam Larry though?
One Panky Waya wrote, "Rest abeg clout chaser. Make una go find prime boy the truth will be out Iya Agbako".