Understandably, Frodd is in the BBNaija All Stars house and his social media pages are being handled by an unknown individual.The handler of this page however triggered backlashes after leaving a comment on Yul Edochie's recent post.
The handler of BBNaija housemate, Frodd faced intense criticism over a comment dropped on a recent post of the Nollywood actor, Yul Edochie.
Frodd who's among the housemates competing for the N120M as usual has a handler that's currently managing his Instagram page.
Using Frodd's page, the handler dropped a comment on Yul's post which triggered outrage from cybernauts.
Yul Edochie had shared a clip from a movie he starred in. In the scene, Yul Edochie acted as one who was very eager to make money no matter the conditions that follow.
Posting the epic video, Yul wrote:
"One performance I love so much.
❤️❤️❤️
When I say I'm the greatest, it's no joke.
I am the greatest.
Sealed.
The intensity I bring to my craft cannot be matched by anyone."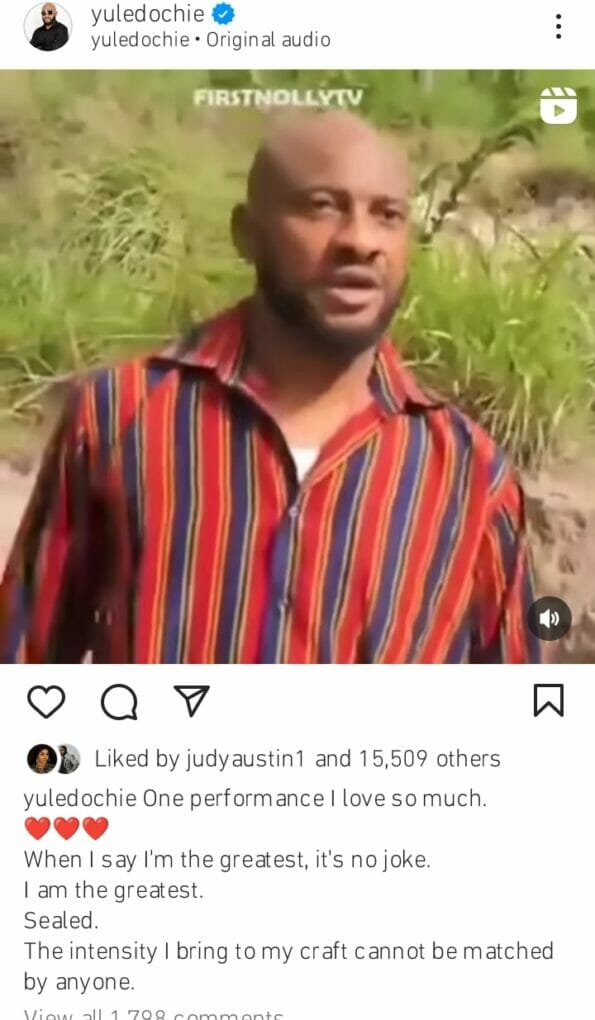 Reacting to the clip, Frodd wrote:
"This trended back to back 🔥"
See below: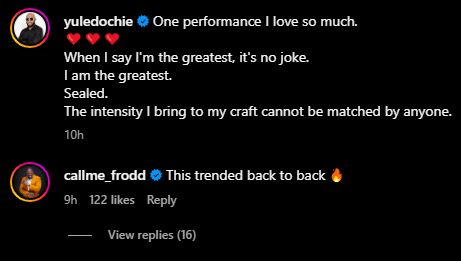 The comment however triggered massive criticism from IG users who weren't pleased with the fact that Frodd's handler was dropping a remark on Yul's post.
One @jane4angel wrote: "@callme_frodd Have you ever seen Frodd comment here? If you looking for support for Frodd, is it @yuledochie support you need? @pharmchi__ call this mumu handler to order before he/she spoil Frodd chance of going far in the game."
realangelp wrote: "@callme_frodd handler face your front before you will spoil things for frodd pls👏. You have only one job and that is BBN."
jenidope wrote: "@callme_frodd aren't u supposed to be inside the house 😢 this your handler na wa o😂."
hybridmiles_automotives wrote: "@callme_frodd dear handler, don't get into a mix of controversy. Pick posts to comment smartly."
judy_austin_obasi_wife wrote: "@callme_frodd evil handler what are you doing here ?? You want people to start dragging innocent Frodd."