A woman has taken to social media to seek advice after she slapped her mother-in-law in retaliation after the woman slapped her.
The lady in a post sent to Facebook user, Angela Mel, claimed her mother-in-law came for Umogwu and has made life a living hell for her. She said her mother-in-law went as far as saying her mother failed to train her well and in the process, gave her a slap. The nursing mum said in anger, she retaliated and slapped her mother-in-law. 
She disclosed that this has caused a serious crack in her marriage as her husband has asked for a divorce.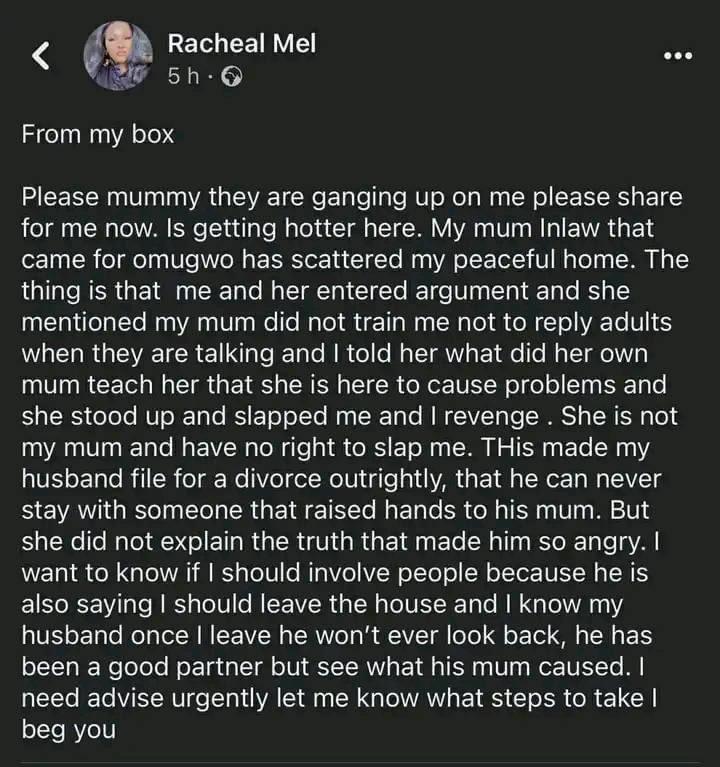 Reacting to her outcry, an Nnewi man with the handle @Kene_Nnewi said it is wrong for women to talk back at their mother-in-laws, let alone slap her. He opined that if a mother-in-law misbehaves, the right thing to do is wait for her husband to return and then report to him, expecting him to do the right thing.
He went on to say that any woman who assaults his mum will either land in the ''Mortuary' or end up in a coma.