A Nigerian man has shared a photo of an 'idol-looking' item placed in a Lagos restaurant for aesthetics. 
@feyiistan who questioned why such an item will be placed in the restaurant, wrote "Why will someone put this in a restaurant all in the name of "aesthetics"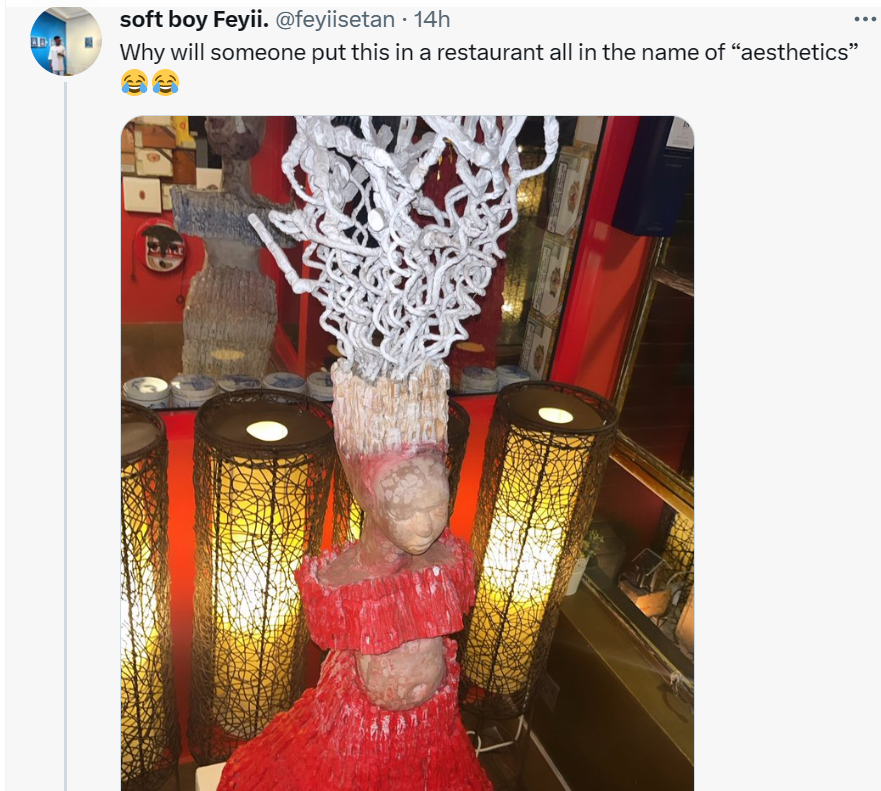 Reactions below….
Anon: Na juju disguised as decorations
Yankee Shepherd: Must you go there to unwind? Why not look else where if you aren't comfortable with it.
Nnymo: It is art! Not everything has a spiritual undertone.
Jossy: No be juju be that?
Remmy: Not new.when u are in a local restaurant look around d shop u must see one hanging somewhere.
Jah Sharon: It's not for aesthetics nah. It is the idol that the owner of the hotel worships. And this is not against the laws of this country. You as children of God shouldn't be running for idols nah, it is the idols who should be running from you. Or are you not a child of God? Why are you running from the "devil" nah?
Moue: But you gleefully go to Chinese restaurants to feel posh with their Buddha displayed. YOu will eat and drink with chaplet and cement mold of supposed Virgin Mary in full glare. Nigerians are idiots.
Goldmachete: And yes the juju do attract you guys to the restaurant