Rapper Offset has walked back on claim of his wife, Cardi B cheating on him with someone famous.
Offset had made the claim in an Instastory post he shared. However, while discussing the public blow-up with Angela Yee, he admitted he was inebriated on tequila and alluded to lying in the heat of the moment. He also blamed Cardi's NYC upbringing for sparking his anger with her "pitbull mouth".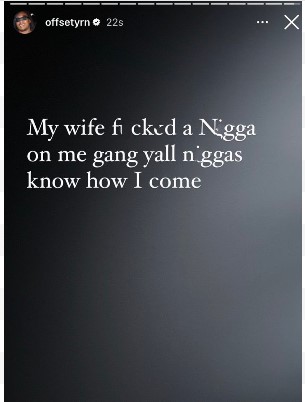 He also claimed that deleting the social media post signified he wasn't telling the truth. Offset further stated that he and Cardi are still husband and wife even when the cameras aren't rolling, and social media trolls do have an effect on their marriage whether he likes it or not.
He added that if Cardi had indeed cheated on him, not only would he be unable to overcome the betrayal, he'd go after her side dude.
On why he cheated in the past, Offset blamed it all on immaturity.
Offset and Cardi got hitched back in 2017, and have 2 kids together in addition to his other 3 from previous relationships.