Former BBNaija winner, Whitemoney, Alex, Neo, and Omashola all bade goodbye to the ongoing reality show.
Be it as it may, the aforementioned who were all finalists in their respective seasons unexpectedly exited Biggie's house.
Omashola who is a house guest was unilaterally evicted.
Among the bottom 3 housemates, Neo Energy had the lowest number of votes followed by Whitemoney and Alex.
Big Brother however chose to evict all the bottom 3 housemates today.
Check out the screenshot of the chart below: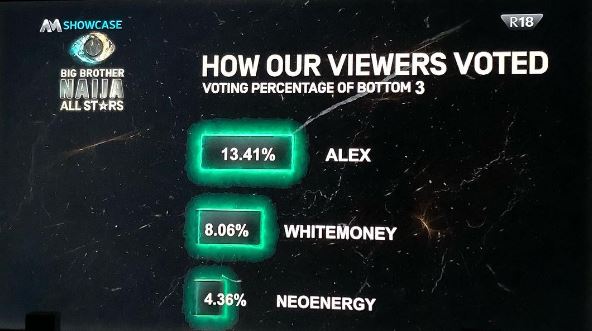 The eviction has triggered more anticipation and intrigue among viewers who are eager to see how the show will eventually play out on the final day.
Reacting, One tay.teee wrote: "If overconfidence were a person it will be white money. My guy throughy he was untouchable 😂😂. His facial expression was everything."
ella__emmanuel wrote: "White Money was expecting Ebuka to say "please sit you're safe"😂😂"
iam_jayscalar wrote: "E shock am and also the housemates, better fear go grip mercy now wey whitemoney done go😂. No be by winning before oh 😂. She go up her game now and I'm here for it."
eddy4yve wrote: "13% people laughed at Patriots that they are bottom 3,look at them.🤣🤣🤣🤣Wuna shame dey shame me.🤣🤣"
mhz_ijay wrote: "They never see Baye the one man squad coming🌶🌶🌶🌶the weakest before and now the top strong contender.."
zubbydon6 wrote: "White money fan's said this time our money is not white 😂."
sajude1979 wrote: "I will say this again. Ojoro dey eviction thing. Where the other people's votes that were up for eviction? They know what they are doing. I'm not going to waste my energy watching this useless show😂😂😂."