Big Brother Naija 'Level Up' housemate, Ijeoma Otabor better known as Phyna, is currently trending on all social media platforms after her father called her out.
In an interview with Vanguard, Phyna's father narrated his ordeal with his daughter, who he claimed has abandoned him since winning the show.
He revealed that Phyna had made promises to him, which she failed to fulfill, and hasn't set eyes on her since winning the show.
Though Phyna has released several statements following the interview, the reality star further took to her Snapchat page to drag her family.
She told the public to give her family her body when she dies so they could eat it.
Praying not to die young, she expressed disappointment that her family is granting interviews against her.
"When I die, I must not be buried. My body should be given to my family and the whole world must sit and watch them eat me. They just eat my corpse.
Just one No.. family begin grant interview. Nice one. I will not die young".
post below…..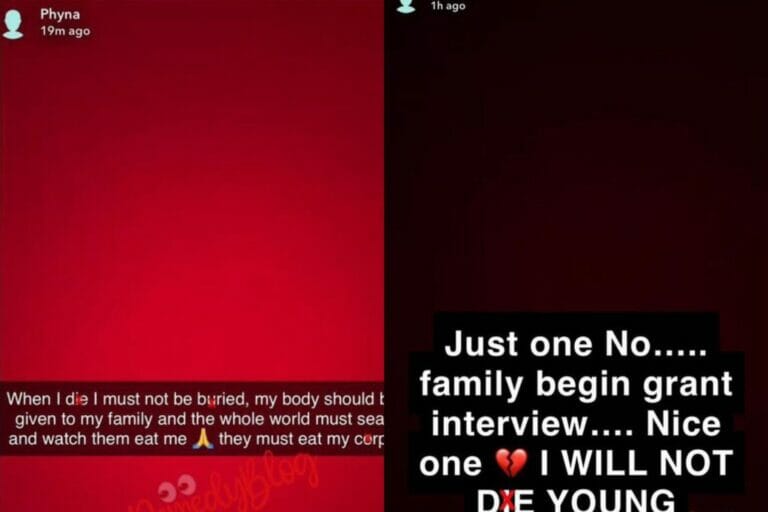 Earlier on, the reality star had called out Vanguard Newspaper, who granted her father the interview, for tormenting her with texts and calls and for probing her with unnecessary questions.
She vowed to sue the publication for constantly defaming her, as she narrated her encounter with one of it's workers.
Taking to the micro-blogging platform, Twitter now known as X, Phyna revealed that in the history of dragging, this is the first time, she has cried and it touched her.
Her public statements have since caused a stir online with many lambasting her for bringing her family drama online.
One Aforlene wrote, "Mumu you no go marry? You all should keep voting mad people in Big Brother house
One Mee Cee wrote, "Money miss road
One Vee Realtor wrote, "Shebi una dey hail her then? Una vote razz girl, una don see say she carry am enter her parents
One Books Fever wrote, "I can't blame her, we all saw when her dad celebrated the new car she bought for him and her mum's surgery. Some families can be real leaches, to the point of them saying they didn't see her when a lot of videos are online of them being happy. Staying in same house
One Sparkling Trends Boutique wrote, "Maybe they want to kill her with bills. Some family has no limit
One Susylicious Hawt wrote, "Mumu girl. Phyna no get sense
One Desmond Dex wrote, "When you all keep voting mad people to be the face of the show. No psychiatric evaluation and people keep voting based on sentiment
One Conleth Hills wrote, "See wetin una vote for shame!! The family sef is so shameless".
One Addy Fresh wrote, "Na pity voters dey cause all this werey