The recent and tragic passing of Nigerian singer Mohbad has left fans, fellow artists, and the entire entertainment industry in a state of shock and grief.
Mohbad, who was formerly signed under Naira Marley's record label, Marlian Records, left a void that can never be filled.
Amidst the mourning and speculations surrounding his death, Naira Marley, who is also the CEO of Marlian Records, shared a heartfelt message that stirred mixed reactions among netizens.
In his message, Naira Marley expressed his heartbreak over the loss of Mohbad and called for a thorough investigation into the circumstances surrounding his untimely demise.
He asked several questions, ranging from Mohbad's whereabouts before his death to the details of the medical care he received and the autopsy results.
Naira Marley also questioned the quick burial and the source of the information that attributed Mohbad's death to an ear infection, suggesting that his former protege deserved a more dignified farewell and that the truth should be revealed.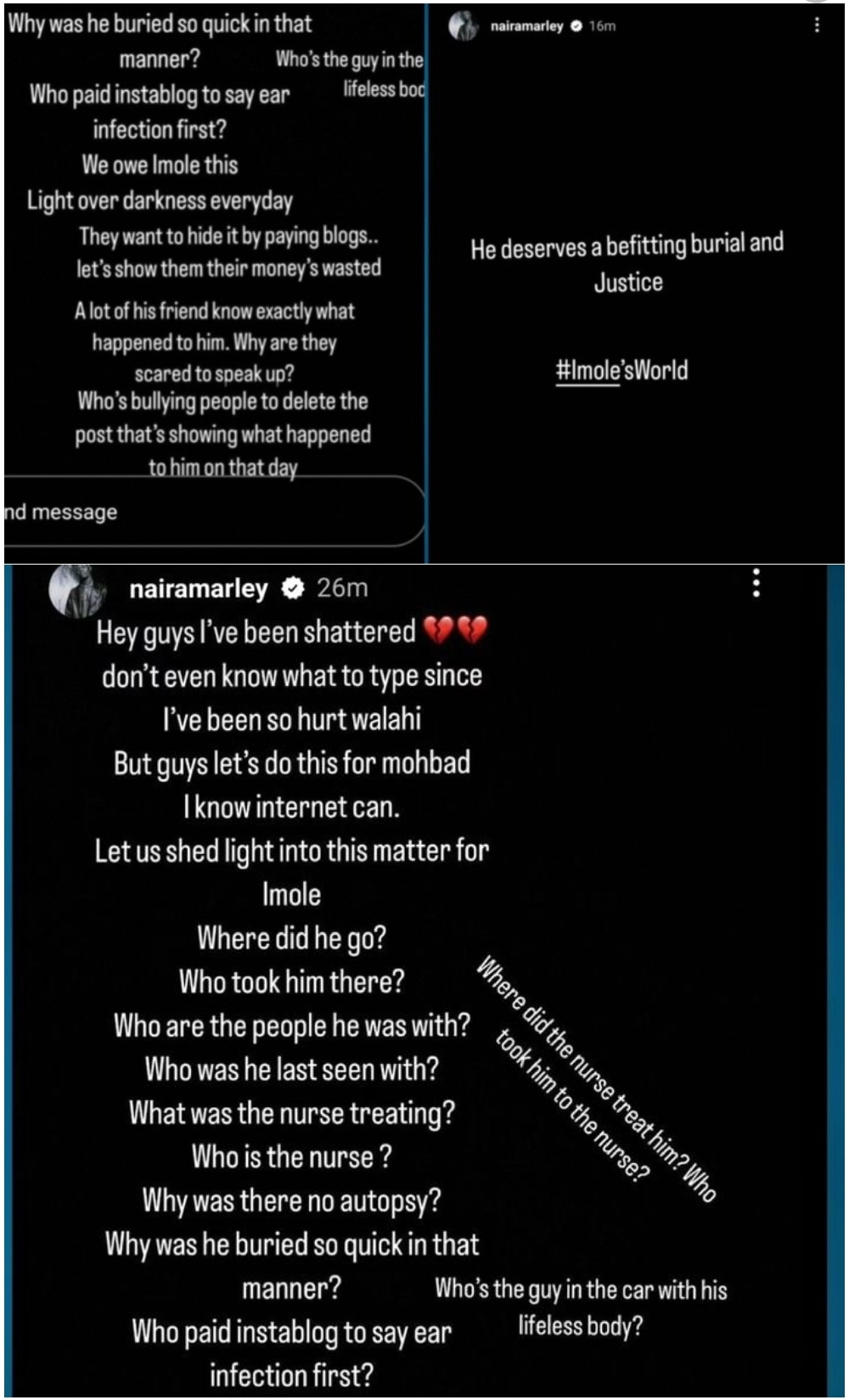 However, netizens had mixed reaction to Naira Marley's statement. Many expressed skepticism and disbelief, pointing to a recent video that surfaced showing Mohbad being harassed by Naira Marley's aide, Sam Larry.
Recall that Mohbad had also filed a petition against Sam Larry raised suspicions that Naira Marley might have been involved in the events leading up to Mohbad's death. These factors led some to doubt the sincerity of Naira Marley's grief and his call for an investigation.
Reactions!
One lindaaa_o had this to say
"Who has been beating Imole black and blue over the vears??"
One funkygold had this to say,
"Ova open your comment section we want to answer your questions"
One dee undisclosed had this to say,
"And many people will fall for this cheap reverse psychology"
One thefoodnetworknig2 had this to say,
"It's giving "go to court"… You're not about to plav reverse psychology on us Marley, stop"
One xxssive had this to say,
"All this questions But u no ask where Sammy Larry Dey"
One cici_ sosobaby had this to say,
"That's why it is not good to keep enemies. Someone who does something and all fingers will be pointing at you."
One callmesunshine_3 had this to say,
"May you remain shattered, Ijn, Amen!"