Following the arraignment of Tiktoker Ego, Nollywood actress, Eniola Badmus has addressed her defamation statement.
In a lengthy post on her Instagram page, Eniola noted how she was body shamed by Netizens for being plus size
Now she is on her fitness journey, yet people are still trolling her and to make it worse, she was heavily criticized for her political choice.
She told internet trolls to allow people live their lives and to be respected, as she noted how not everyone has the muscle to keep it going and low-key struggles with depression.
Further noting how celebrities are human and have blood running through their veins, she added that they shouldn't be judged for their choice or approach to life.
"I will like to address an issue that has been plaguing social media platforms and online communities: defamatory statements about me.
How do you wake up, go on social media and pull people down by making false/negative comments about them and still expect Mercy from God? This is someone you do not even know! Common!
You have no single fact/evidence but will sit behind your phones and make a smooth video defaming my personality. Why?
When I was plus size, it was the height of body shaming, now on my fitness journey, same negative comments, when I made my political choice, the same negatives. Guys, let people live their lives and respect them for it. Some of us have muscle to keep it going, how about those that can't and silently struggle with depression and low self-esteem?
We celebrities are human, we have blood running through our veins like you. No one judges your choice or approach to life in your corner, so why judge on personal and human actions?
More often than not, I ignore these comments or don't even bother reading them but sometimes, it hits badly and you truly and really want to set an example.
I am aware that defamation is a serious matter and can have severe consequences both legally and socially. It is essential to recognize the impact of our words on others and the responsibilities that come with expressing our opinions publicly. While freedom of speech is a fundamental right, I think it should be exercised responsibly and with consideration for the potential harm it may cause. Above all let's spread love.
Love you guys".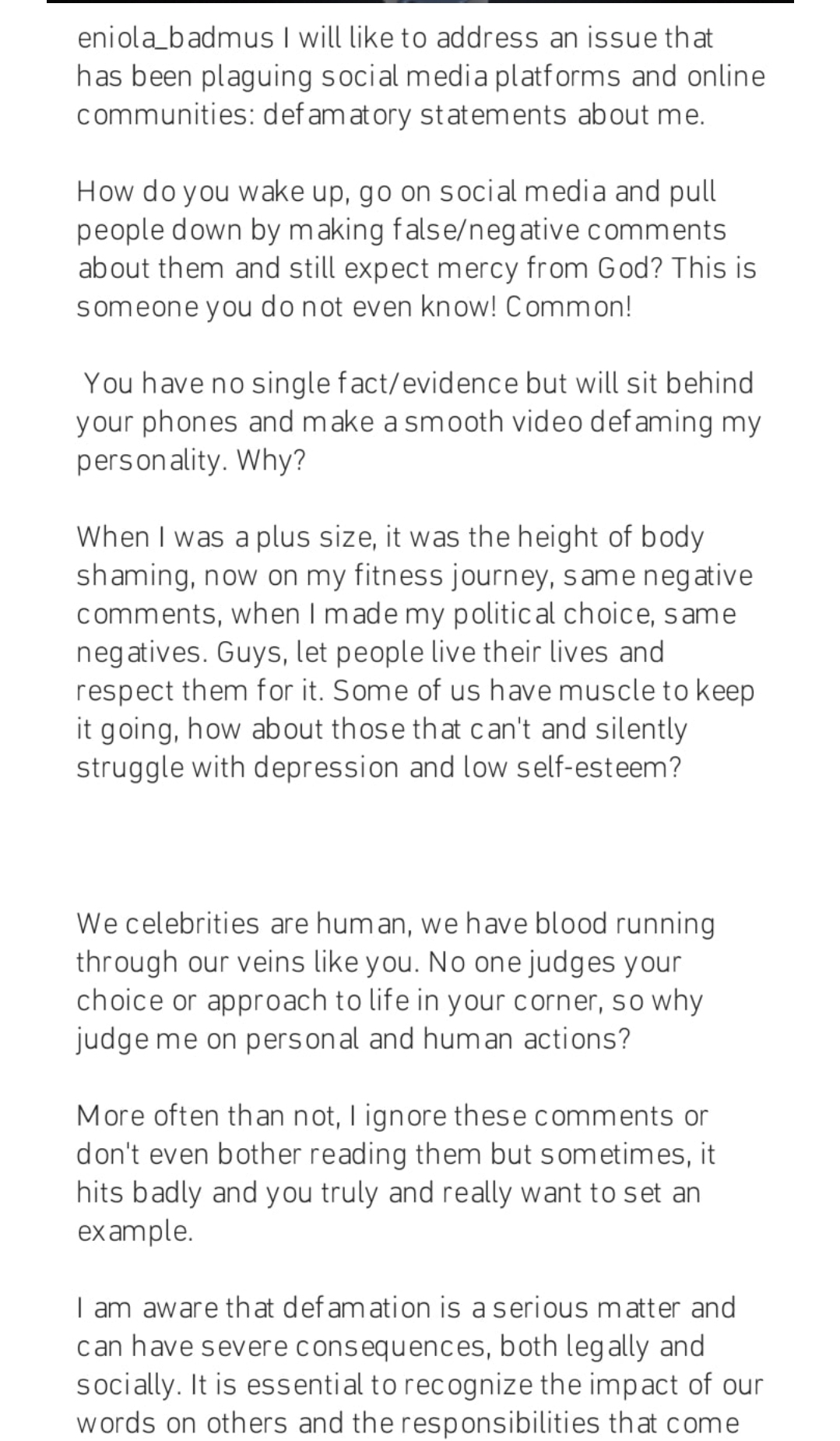 This is coming hours after the Tiktoker was sentenced to two years imprisonment.
Ego was arraigned to court today, Wednesday, August 2nd, and has been sentenced to two years imprisonment by a Federal High Court sitting in Lagos.
Blessing Nwakego was charged to court on a two-count charge bordering on cyberstalking. She was also charged with committing a felony.
Following her arrangement at the court, she was convicted of the charges against her and was sentenced to one-year imprisonment with the option of a fine of N50,000 on count one.
On count two, she was sentenced to two years imprisonment, with the option of a N100,000 fine. The terms of the consecutive are to be consecutive, while the terms of imprisonment are to be concurrent.
Not surprisingly, Ego chose to go with the latter as information gathered online claimed that she has agreed to pay the N150k fine to secure her freedom.