A peculiar sight unfolded on bustling streets as a lady with an extremely slim stature appeared, leaving passersby in utter astonishment.
A TikTok video, posted by a user known as "Chinese Girl," has since gone viral.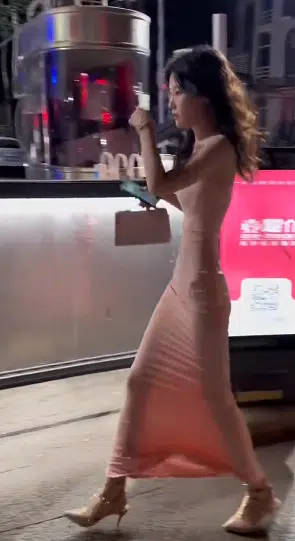 In the short clip, the lady, who appears to defy the laws of physics with her towering, slender frame, strides through the streets at an impressive pace.
Despite her rapid pace, her graceful and steady walk surprised those who watched her.
Onlookers initially feared that she might stumble, but to their amazement, she maintained her balance effortlessly.
Dressed in an elegant long gown and sporting high-heeled shoes, the mysterious damsel's already impressive height was further accentuated.
Her outfit gave her an otherworldly appearance
The TikTok video, which has garnered millions of views in just a matter of hours, begins with the tall and lanky figure emerging onto a narrow road.
Netizens have been buzzing with curiosity, speculating about the lady's identity and the reason behind her unusual appearance and swift walk.
Netizens Reactions…
@LuisaDimaro said; "She carries her organs in her purse?"
@Emil0a commented; "What kind of comma is this?"
@deliaaaan reacted; "What my mother expects from me."
@queenwarrior34 said; "She's taller than the comment section."
@Terryt said; "Wow! She has super powers. Where ever she walks everything moves."
@AUNT and NIECE said; "May God protect you from the wind."
@MoLLy said; "Am I the only one who realized it was a filter after reading the comments?"
@Chuu1ststan said; "The background distorting."
Video below;