Actress, Ese Eriata is of the opinion that the biggest mistake a person can make is allowing their parents decide who they marry.
The BBNaija star shared this opinion in a post on her Snapchat. Read below…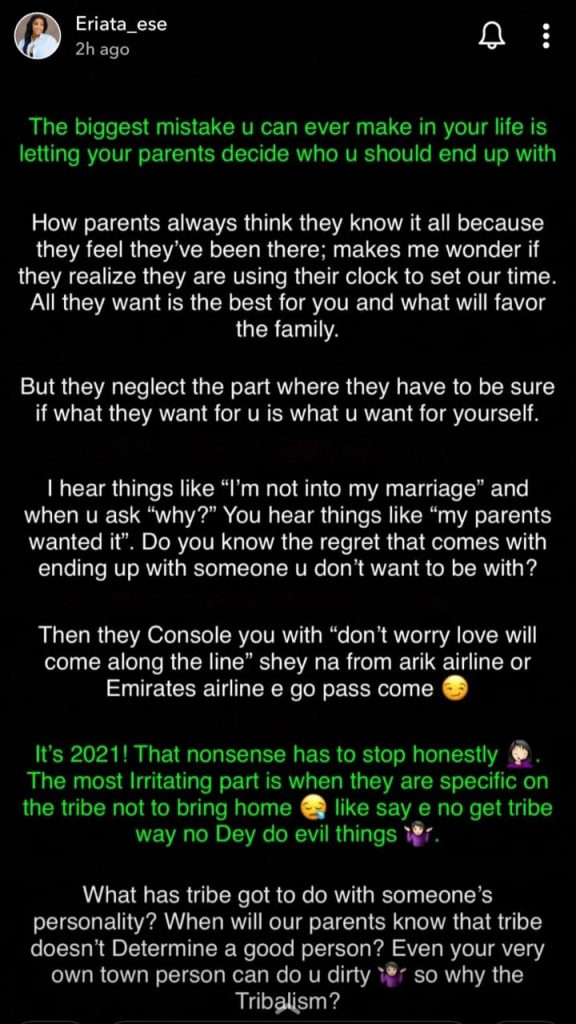 See reactions below…
Linda wrote: There's no formula to these things .it works for some, it would not work for some
Robo Band wrote: So stop generalizing, sometimes your parents choice might turnout the best, people choose spouses now and there are even more divorce cases now than ever.
Anony wrote: Funny enough, it is most of the marriages that our parents arrange for us that tend to last longer than the so called 'marrying your best friend' or 'marry who you love'. Look around you today, you would see marriages packing up within months. Marrying for love alone these days dont even cut it anymore, commitment and determination could go a long way; everybody wants the easy way out. Marriage is a vocation and last time a checked, no vocation is a bed of roses.
Profit Gab wrote: Are you married to talk or advice us on how marriage work. It's 50/50 don't generalized it.
Deeboi wrote: Abeg she don marry any?..
Samba wrote: That is because when relationship contacted by ones parents go south the parties will have who to blame by insinuating i could not have married him/her if not for my parents, but when ones choice went wrong the tendencies of enduring comes in because the blame can not be shifted to any one. marriage is very dicey.
Mouse wrote: She is right to some extent but it's not the biggest mistake. The biggest mistake is getting married just to be called Mrs A.

Nena wrote: Allow people to be themselve, somepeople don't know leeches and may take them as wife but their parent can see through her. Somepeople may even be blinded by love and won't see the girl for who she truely is.