Nigerian crossdresser, Bobrisky has left many talking as he cozies up to mystery man.
Taking to his Instagram page, Bobrisky shared a loved-up photo of him and a man staring at each other.
The crossdresser didn't say much about the photo in his caption, as he only left a love emoji.
As expected, the photo got many of his fans talking as they took to his comment section with questions about the man.
One Rikky Flefle wrote, "Is this the billionaire bf?
Mocking them, one Lavish Chelsea wrote, "2 men looking into each other's eyes
One Cindy Robinson wrote, "Na this man dey give you N100m bob?
One Muizat Adeshewa wrote, "Na Ade be this?
One Nofiu Moyosore wrote, "Na Ade multi-millionaire be this?
Lamenting over her single status, one Cindy Favy wrote, "Even bob get ma yet some of us still dey single
One Empress Kossy wrote, "Mummy of Lagos et Daddy of Lagos
One Dr. Knz wrote, "2 senior men. Bone to bone
One Rikky Flefle wrote, "As u dey post this now. How will other sugar daddies and sugar boys feel
One Jully MK wrote, "Ade is finally with his love
Post below….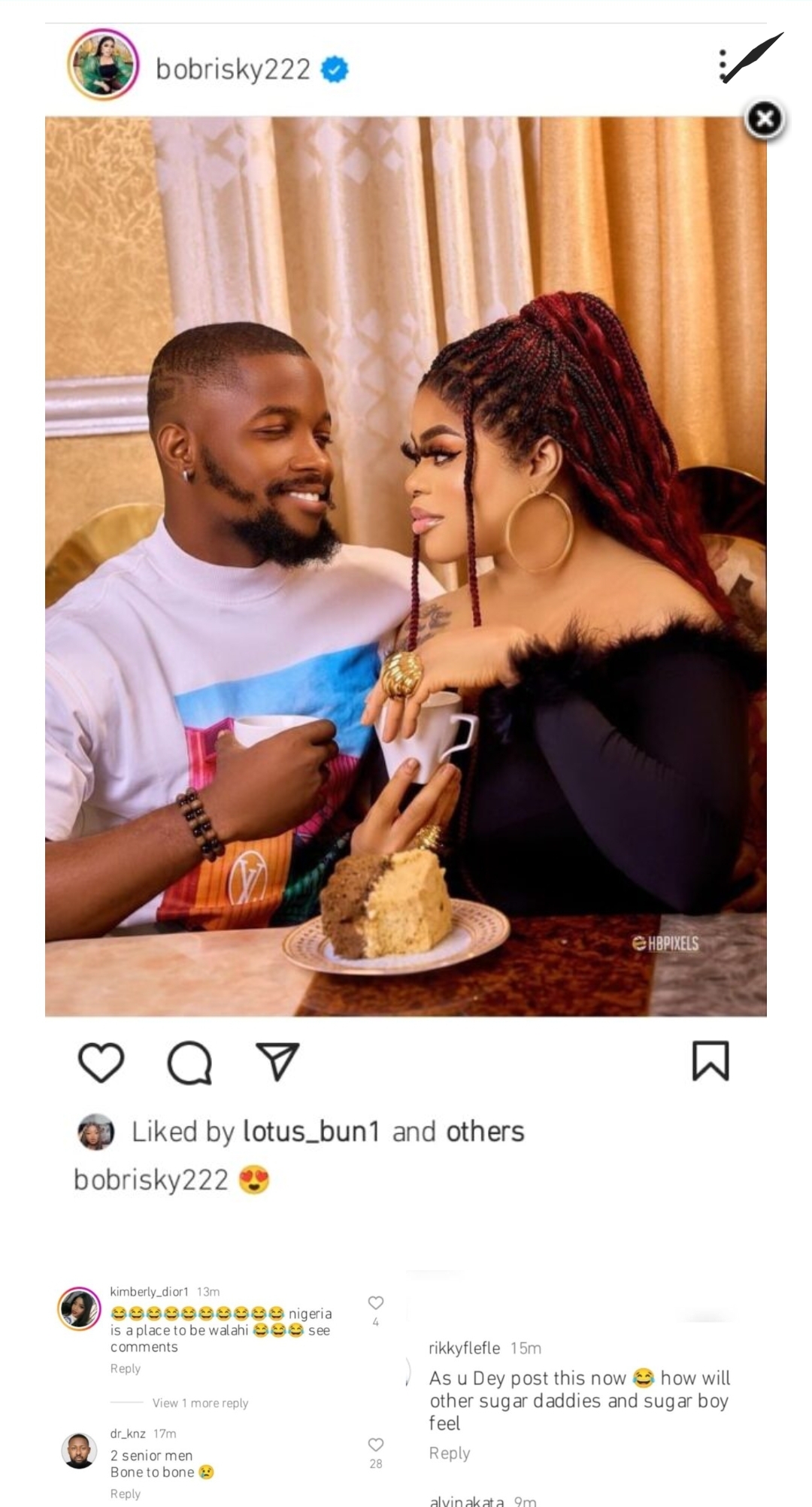 "I am dating one of your popular billionaires" Bobrisky discloses
The photo is coming just days after Bobrisky had given a hint to the man she is dating.
The male Barbie in a since-deleted post on his Instagram page alleged that he is dating a popular billionaire, who is the dream of many ladies.
He stated that if only people know the man who his dating her, then many ladies would cover their eyes in shame, but they chose to keep their relationship low-key.
Aside from his riches, Bobrisky revealed that his lover is also very famous and is a celebrity.
The controversial socialite didn't share further details about her alleged lover.
"Sometimes I wish to post my boyfriend. But naaaa. I want some of dis girls to cover their eyes in SHAME. I'm dating one of your popular billionaires.
If many of you know who is dating me Haaaa. I'm dating many of you girls CRUSH. I'm just low-key. Thank your God we both want it low-key if not none of you go hear word on dis Instagram. He's rich asf and famous. We are both celebrities. He's seeing dis post and laughing hard. Baby I love you. No one can take my space in our heart".
Joseph Momodu issues a disclaimer over raunchy video of Bobrisky and his lookalike
Last two months, actor, Joseph Momodu had issued a disclaimer over a trending video of Bobrisky and a man, who many assumed was him.
Bobrisky had shared a sexual video with a man to promote an aphrodisiac product.
The video which made rounds on the internet left many questioning the identity of the man and contemplating if it was Joseph Momodu.
In a post on his Instagram page, Joseph Momodu made it known that he wasn't the one in the video and that the model advertising the product only bears striking looks with him.
The actor claimed that he had been receiving curses and insults in his Dms since the video hit the internet.
Telling them to stop sending him messages, he stated it clearly that he wasn't romantically involved with Bobrisky.