In a video, a homeless Nigerian woman in Italy is heard pleading for help from her fellow countrymen.
She claimed that during her two years in Europe, she had not been provided with housing or a means of survival; instead, she had been sleeping outside in the cold.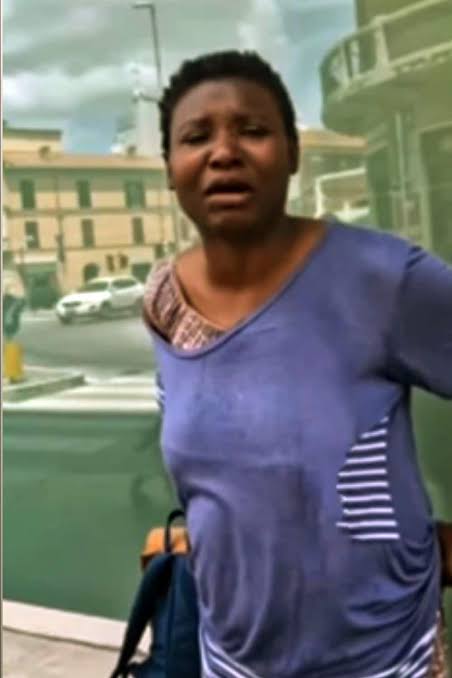 The woman, who was being questioned by a fellow Nigerian, claimed she had been to many of the country's centers for migrants' assistance but that no one was willing to assist her.
The woman who appeared to be mentally unstable claims that the person is not insane as many people think.
She admitted that she misplaced her papers and has been stuck ever since, but she stated that she would prefer to be deported.
She pleaded with people to help her out of the situation and noted that she is a woman who should not be subjected to such suffering. CLICK HERE TO WATCH VIDEO.
See some of the reactions culled below:
officialdjmoimoi; Na how she take enter Italy? Let's try to migrate officially please to avoid all these stories. Abroad life too sweet, no suffer yourself. For me now, I never know when I wan come back Nigeria oo
kayeriom; Today's preaching was for us to be sensitive to our neighbors and help them, I don't know why I'm laughing, maybe the way she's screaming, God forgive me and she's even a Nigerian and my Calabar sister, please let's help her in anyway that we can. How do we get to her??? Life is not easy at all, it doesn't matter the location.
nadraassy; One out of 20 of the japa crowd is in a bad state and you have all the negative thing to say about people japaing , it's not easy to settle in a new country where you know few or nobody at all but that shouldn't discourage anyone that believes they can maximize their potentials if they travel abroad , this is not enough to be a discouragement, the percentage that makes it is higher than the few that gets stucked , may she find the help she needs.
gylliananthonette; To all the people that left Nigeria to look for greener pastures, may everywhere you are be green for you …May you not regret leaving
restoring_womens_confidence; The reality of migration. Not everyone is successful at it and that's why it's important to plan well and have a solid plan in place before you uproot yourself from your country, and most importantly PRAY! May everyone who has migrated out of Nigeria for a better future experience a land that is greener on the other side. Amen.