Popular Canadian rapper, Aubrey Drake Graham, better known as Drake, has made many talking as he shows off incredible gifts he received from his female fans at his recent tour.
Drake, who is known for the beautiful 'Baritenor' voice, is currently on co-headlining tour Atlanta-based rapper 21 Savage, to promote their collaborative album Her Loss. It began July 5, 2023, in Chicago, Illinois, and will end in Columbus, Ohio on October 9, 2023.
It's no news that during his tour, many of his female fans showed him love by throwing their inner garments at the hit maker while on stage.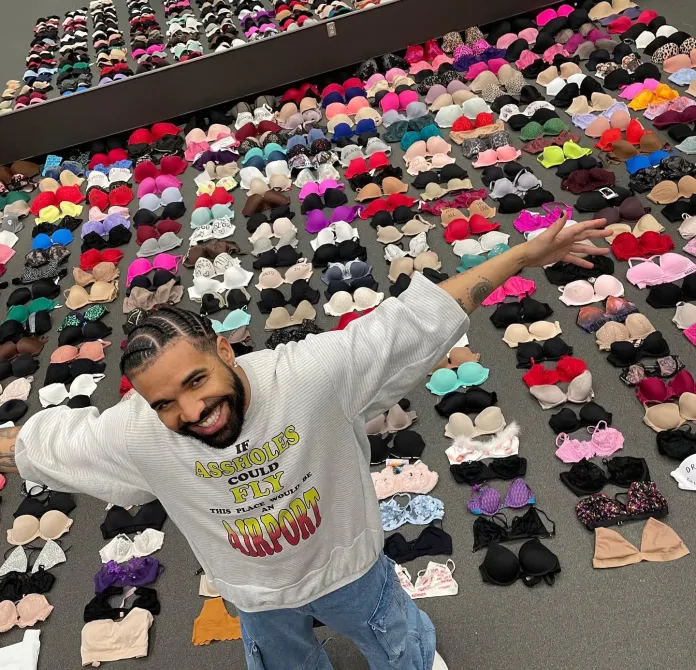 However, the international music star took to his official Instagram page of 142 million followers as he shared a photo of himself posing in front of brassieres he had received.
Watch the video below:
Social media users flooded the comment sections with their different opinions. Some reactions are shown below:
pyramidvalley__ said, "Bra LORD😂 JUST OPEN STORE😂".
_zee_218 said, "😂😂😂 just use am Start market".
big7record said, "Burna can literally recreate something like this😂😂😂".
allison_jnr17 said, "The caption on his shirt tho😂😂😂😂😂😂".
trustgod_001 said, "If nah Nigeria dem go say nah ritualist".
outsiders4llfe said, "Make burna do em own after " I TOLD THEM TOUR"😂😂😂😂".
honest30bgfan said, "Anita bra go dey there davido for don give drake just to get that collab from him".