Popular Nigerian Doctor, Dr Penking has joined some other angry Nigerians to condemn Fancy Acholonu who is Alex Ekubo's former fianceé over her recent public apology.
Fancy Acholonu, a model and entrepreneur, had taken to her Instagram page to wrap up the year by taking another shot at love.
Acholonu who got engaged to Nollywood actor, Alexx Ekubo, in May 2021, suddenly called off their already-scheduled wedding in August of the same year.
"Hey guys, I am writing to inform you all officially that I have ended my relationship and I have called off the wedding with Alex Ekubo," she wrote in an Instagram post
Stating that she was aware that the news would come as a shock to many, the model maintained that she had made the best decision for herself "because it is important that everyone finds their happiness and live in their truth."
Over a year later, Fancy has made a U-turn and tendered a public apology to her former lover, asking him to take her back.
In a post shared via Instagram on Thursday, Acholonu apologised for the hurt she caused her ex-fiancé and his family by publicly announcing their break up
She further affirmed that her heart still belonged to the actor as losing him "felt like grief."
Sharing a picture of rosier times, she wrote, "Like our shirt says, Nothing makes sense when we're apart @alexxekubo you still have my heart. I miss you, I love you, and I'm truly sorry for all the hurt & pain you and your family went through with our break up.
"My actions in how I handled things was out of my character. I should have controlled my emotions and not been so over reactive. I said too much, I did too much. Please forgive me, I've learned my lesson on how to handle situations better.
"I haven't expressed myself properly. I'm not afraid to be vulnerable and say you, your family, & friends still mean the world to me. Losing you has felt like grief. Love heals #FalexxForever."
Reacting to this, Dr Penking took to his Twitter page to urge Alex Ekubo to stay away from Fancy, because she is probably the cog in the wheel of his success.
"Alex Ekubo's ex-fiancée, Fancy Acholonu has returned to beg him for forgiveness. She said she has learnt how to handle situations better now. Wow. She probably thought that Alex would remain stagnant when she left. Fortunately, God is not man. As soon as she left, he built a mansion, invested more, bagged a doctorate. Everything started falling in places for him. Who knows whether she was the w1ych stalling his progress. Men, this is why you need to stop grieving over a woman that has refused to be kept . Never cry over a woman. Crying over a woman makes you a weakling and a massive loser. Use that energy to invest in yourself and watch them saunter back. However, never accept them when they come back, for such a woman has already failed the test of time and if the going gets tough in future, she'll run again. Find a fresh woman instead and build your new world with her. She was probably among the Yas Queen Oloni fans. As Oloni post proposal picture her eyes clear.  I hope Alex makes wise decisions," he wrote.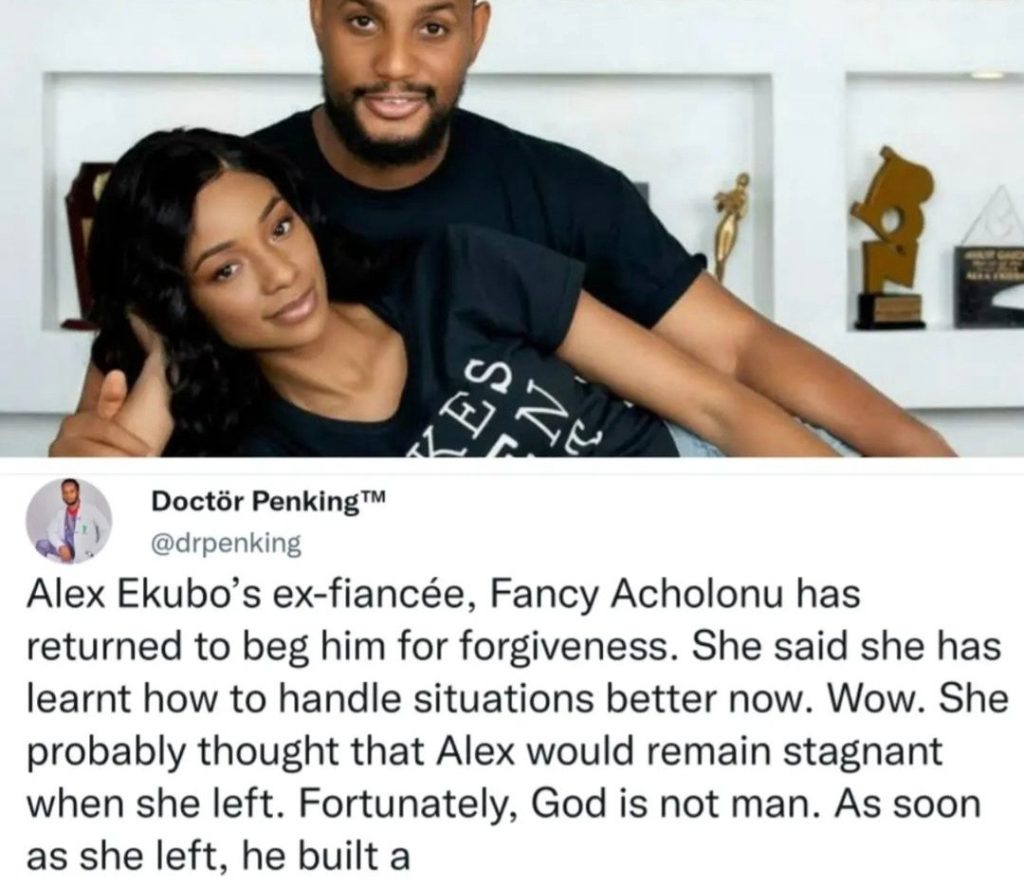 More reactions below…
Damilola wrote: Truth is she never found a better offer if she did she won't return thats how women act when they leave if no luck then they back track..
Deny wrote: As a lady sef, I won't even take her back. Maybe if it had been done privately then Alexx would have considered. But when someone shows you who they are believe them. Girl seems like a narcissist and this is holiday time, a very nostalgic time and can be quite lonely for singles. She's just doing the hoovering manoeuvre, u know, circling the block. If Alexx takes her back, I can bet she will dump him again by summer.
domino wrote : Which right thinking man goes back to a girl that walked away on you for no tangible reason. Guys marry a woman that you love and she is madly in love with you, not one that thinks she's a god that deserves to be worshipped, she will make ur life hard and unpleasant. Marriage is a long journey riddled with hurdles. if she doesn't love you enough to deal with challenges when it's just both of you, what happens when kids and more difficult issues arise. Decision is up to Alex, i wish him well.