The All Progressives Congress (APC) has appointed 12 Senior Advocates of Nigeria (SANs) to defend the mandate of its presidential candidate, Bola Tinubu in the just concluded polls. 
According to INEC, Tinubu got 8,794,726 votes in 12 of Nigeria's 36 states, PDP's Atiku Abubakar got 6,984,520 votes, and the Labour Party candidate, Peter Obi, got 6,101,533 voted. 
Atiku and Obi have rejected the outcome of the election, vowing to challenge the result in court. 
In a statement on Tuesday, March 7, APC said it is willing to meet the parties in court. 
The party's National Legal Adviser, Ahmad Usman El-Marzuq, released the 13-man list comprising 12 senior advocates.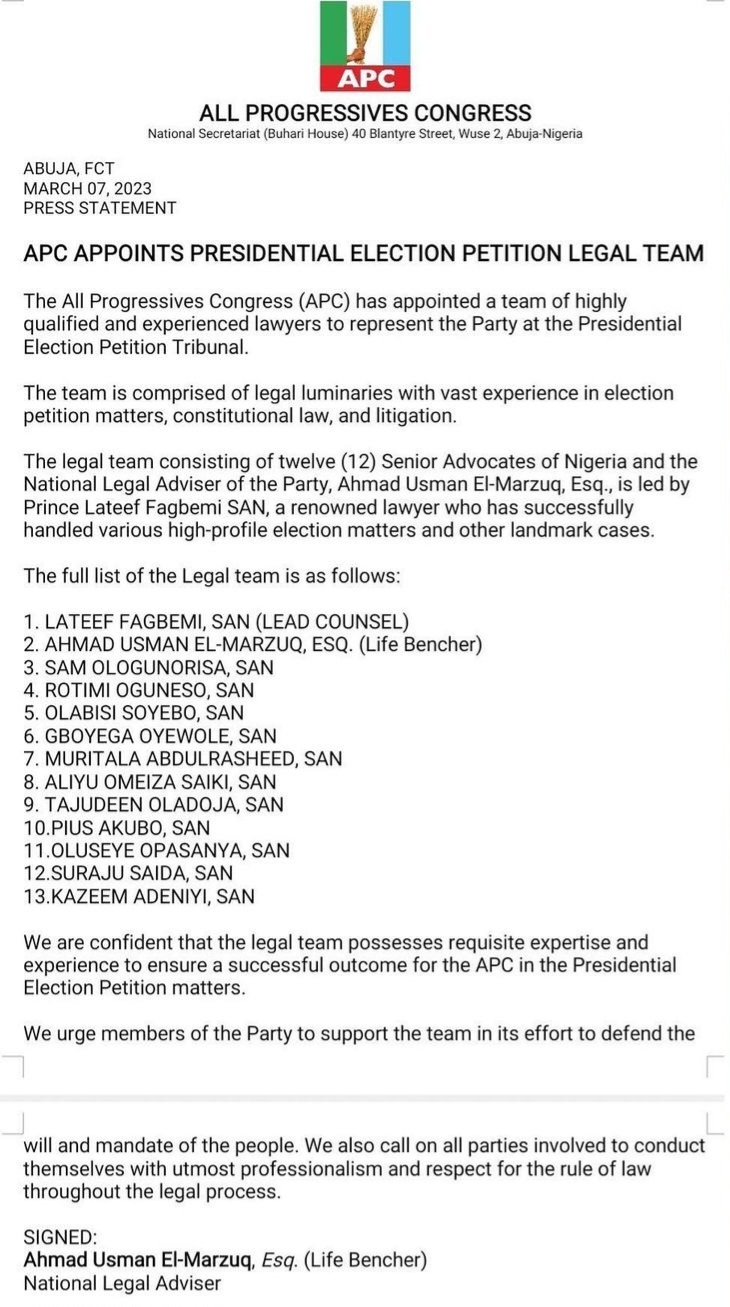 "The All Progressives Congress (APC) has appointed a team of highly qualified and experienced lawyers to represent the Party at the Presidential Election Petition Tribunal," the statement read. 
"The team is comprised of legal luminaries with vast experience in election petition matters, constitutional law, and litigation. 
"The legal team consisting of twelve (12) Senior Advocates of Nigeria and the National Legal Adviser of the Party, Ahmad Usman El-Marzuq, Esq., is led by Prince Lateef Fagbemi SAN, a renowned lawyer who has successfully handled various high-profile election matters and other landmark cases." 
Other members of the list are Ahmad Usman El-Marzuq, Sam Ologunorisa, Rotimi Oguneso, Olabisi Soyebo, Gboyega Oyewole, Muritala Abdulrasheed, Aliyu Omezia Saiki, Tajudeen Oladoja, Pius Akubo, Oluseye Opasanya, Suraju Saida and Kazeem Adeniyi. 
The statement added that the party is "confident that the legal team possesses requisite expertise and experience to ensure a successful outcome for the APC in the Presidential Election Petition matters." 
It continued: "We urge members of the party to support the team in its effort to defend the will and mandate of the people. 
"We also call on all parties involved to conduct themselves with utmost professionalism and respect for the rule of law throughout the legal process."