Nollywood actress, Uche Ogbodo is celebrating her daughter, Lumina's birthday today, June 8.
The young champ turns 2 and in celebration of her day, her mother has penned an emotional note to her.
She expressed how amazed she is at how extremely good things can happen to her out of nowhere.
For the pregnant mother of two, she can't scream, can't cry either, and is just smiling with tears in her eyes.
She noted how her daughter and her husband chose her when she thought she was devoid of love and didn't want to be found.
"MY BUNNY IS 2! Yaaaaaay!
I can't even scream, I can't cry either. I'm just smiling here with tears in my eyes. I am still amazed at how extremely good things can happen to me out of nowhere.
My bunny, you and your papa chose me when I tot my life was devoid of love! When I was lost and didn't want to be found even!… When I tot that all the love I'm supposed to have in my life is Mildred. You came and changed my life for the better and made me a better woman! Full of smiles and hope every day. I love you my Lumu Lumu! So much that I can not explain!
Thank you for choosing to do life with Me your mother.
Happy Birthday my love child Lumina".
Uche Ogbodo pens touching note to daughter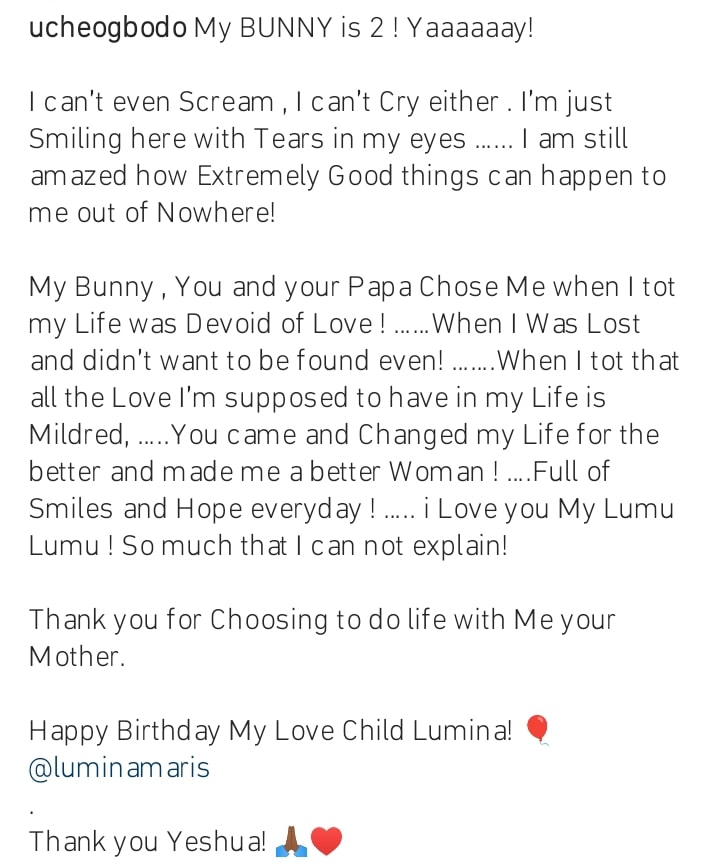 Recall that last year, Uche Ogbodo narrated how the enemy tried to kill her during her child's birth.
She made this known as she geared up for Lumina's first birthday.
The actress recounted the difficulties she experienced while birthing her daughter.
The mother of two noted how the enemy wanted to take her daughter away from her but God didn't allow it.
Uche Ogbodo promised to share the full story on her birthday.
How your birth confused darkness – Uche Ogbodo celebrates daughter's first birthday
Keeping to her words, Uche Ogbodo narrated the full story on her daughter's birthday.
The proud mom celebrated her birthday with a touching story of how her birth brought forth a blinding light that overwhelmingly confused darkness. Read more here.