A Ghanaian feminist has knocked actress, Rita Dominic as she reacts to the news of her taking up her husband's surname.
The newly married had changed her Instagram bio to reflect her husband's surname. Noting the new change, the feminist and media personality queried why women always have to be the one to make such changes.
She pointed out how Rita Dominic, who is a household name, has to change her identity to her husband.
"Just hours after her white wedding, a household name, a global brand. Rita Dominic is now called Mrs Fidelis Anosike! Why, why most women always have to be the ones letting go after marriage?".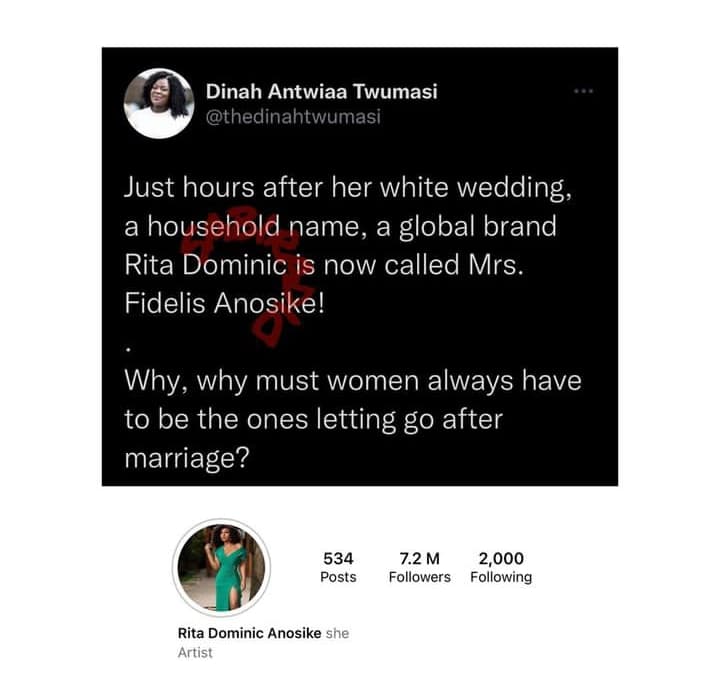 On Monday, November 28th, following the success of her wedding over the weekend, Rita Dominic had fully taken up her husband's surname, Anosike.
The talented movie star had made some changes on her Instagram bio. Tontrends did a check on her Instagram page, and noticed that the newly married had added her husband's surname to her name.
Her Instagram bio had been changed from Rita Dominic to Rita Dominic Anosike. Rita Dominic's wedding This new change is coming after she wedded her beau in grand style over the weekend.
Recall that Rita received massive headlines this year, following her two part grand wedding ceremony. In April and November, Rita was on the lips of everyone as she finally tied the knot at age 47. The movie star, shutdown the internet with her two part fairytale wedding, Traditional and White wedding.
On Saturday, November 26th, families, friends, and colleagues of the couple attended their white wedding ceremony in North Yorkshire in England. Nollywood celebrities including Kate Henshaw, Chioma Akpotha, Blessing Egbe, Michelle Dede, and Mildred Okwo were also present at the ceremony.
For her traditional marriage in April, Rita shutdown Mbaise, Imo State. Aboh Mbaise, Owerri, Imo State , was the talk of the town as Nigerian celebrities graced the ceremony. The wedding ceremony had all categories of notable personalities across the country, especially Nollywood personalities and business people shutting down Owerri. The likes of Onyii Alex, Uche Jombo, Uche Elendu, Okey Bakassi, Kate Henshaw, and other A- actresses where present.