Social media users have reacted in shock after a random Nigerian girl tattooed singer, Wizkid's full name on her chest.
Showing concern as to who her future husband will be, many questioned the rationale behind the tattoo.
"Wizkid Ayodeji Balogun" the lady inked boldly on her chest.
See below…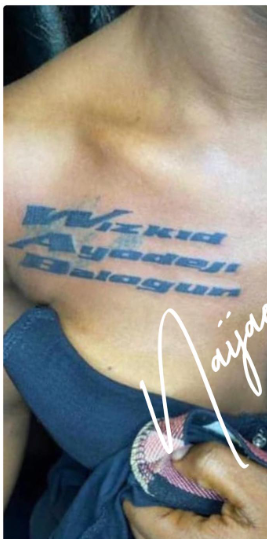 Reacting to the photo.
one CEOVS77 wrote, "Who Dey marry all this kind people self ? Make I Dey suck Bobby Dey see another man name for ur chest"
One Kehrian_Bernice wrote, "Wizkid won't even acknowledge 😂😂 not a single like!! That dwarf en"
Oe dat_nawtibwoi wrote, "You fit tattoo wizkid name for body make you no still blow nor see shishi"
_welblek__ wrote, "Ashiere just imagine say we Dey date now Shey na so I go Dey see wizkid full name for ur body Abi 😒 okan e onibale"
One Olawalesmitty wrote, "You marry wife, when una dey play to suck her bobi then you go dey see Wizzy tattoo on bobi wey you pay dowry"