Popular Tonto Dikeh has shocked fans as she and her co-runner, surrender their Governorship slot for another political party in Rivers State.
Tontrends reports that the former actress revealed on her page a few minutes ago her intentions to step down for the APC Governorship candidate ahead of the elections on Saturday 18th of March 2023.
According to Tonto Dikeh, she followed the advice of political elders who recommended that joining forces with another political party would increase the chances of unification and enable them to compete with the stronger PDP party.
She wrote: STRONGER TOGETHER FOR A UNITED RIVERS STATE..
Having carefully listened to the advise of elders and political leaders of Rivers State on the need for the opposition to look inwards and present a unified, competent and generally acceptable candidate with the capacity to win the March 18th gubernatorial elections, and the need for the opposition to prevent splitting its votes amongst several candidates, today we officially adopted Pastor Tonye Cole, Governorship Candidate of the All Progressive Congress (APC) Rivers State as the consensus and unifying Candidate of the opposition. Upon his victory Tonye Cole will form a unity government comprising of the APC and other opposition parties in this alliance titled "Stronger Together for a United Rivers State". I hereby call on all my supporters to vote for Tonye Cole of the APC this Saturday.
Post below….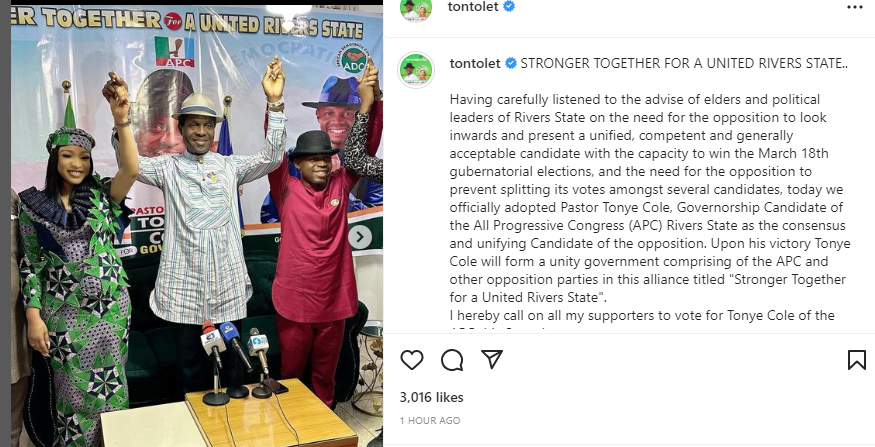 Her fans have shown support for her decision
Here are some comments:
Great decision my correct sis…. Tonye cole all the way
Wherever you move We Follow! Amb. Tonto Leads we Follow!!
Together we stand ,together we will conquer……ADC or Nothing
I have heard a lot of good things you've been doing. I wish you all the best ma
You are the daughter of ur parents ,God bless you for listening to your elders.
Go get …..your good heart speaks for you 
We are greater together.