A video of a house help who allegedly killed his employer, a lecturer at the Nnamdi Azikiwe University, Awka, Anambra State, with a pestle, confessing to the act, has been shared online. 
In the video, the suspect said;
"When he came back, he told me to cook rice. And as I was cooking the rice, he asked me why I did not wash plates. I did not reply. He then asked why I wasn't responding to his question. In the process, he slapped me. But I told him I usually have ear problems, and that people don't slap me. As I was saying that, he angrily asked why I was interrupting him and he slapped me again.
I got angry and we started fighting. After he overpowered me, I looked around and saw a pestle which I used in hitting him. I struck him three times with the pestle and stopped after he started bleeding" he said
During interrogation, the suspect who first denied killing his master, later confessed to the crime after he was thoroughly beaten when his moves became suspicious.
A Facebook user, Chima Uzoagu, who described the deceased as his brother, said the househelp killed the deceased because he scolded him for letting the food he was making, get burnt.
"Chima was my brother.
A wonderful chorister and a fine choir leader.
He comes from one of the finest family in Igboukwu, his parents have loved me like their son right from my days as an undergraduate.
Chima my brother went viral yesterday not because of all the fine virtues bestowed upon him by God…
But because he was gruesomely mvrdered by their househelp just because my brother scolded him for letting the food on fire get burnt.
Not once, not twice but three times this animal hit Chima with a pestle on his skull.….Chima wasn't kidnapped, he didn't have a road accident neither did he die in his sleep.
His beautiful young and promising life was cut short right inside his home by a person they housed, clothed, fed and paid.
I don't know how I feel or have felt since yesterday"
Another Facebook user, Ikem Bu Chukwu, claimed he was at the hospital when the deceased was rushed in and that the suspect was forced to confess after he was threatened by the security officers at the hospital.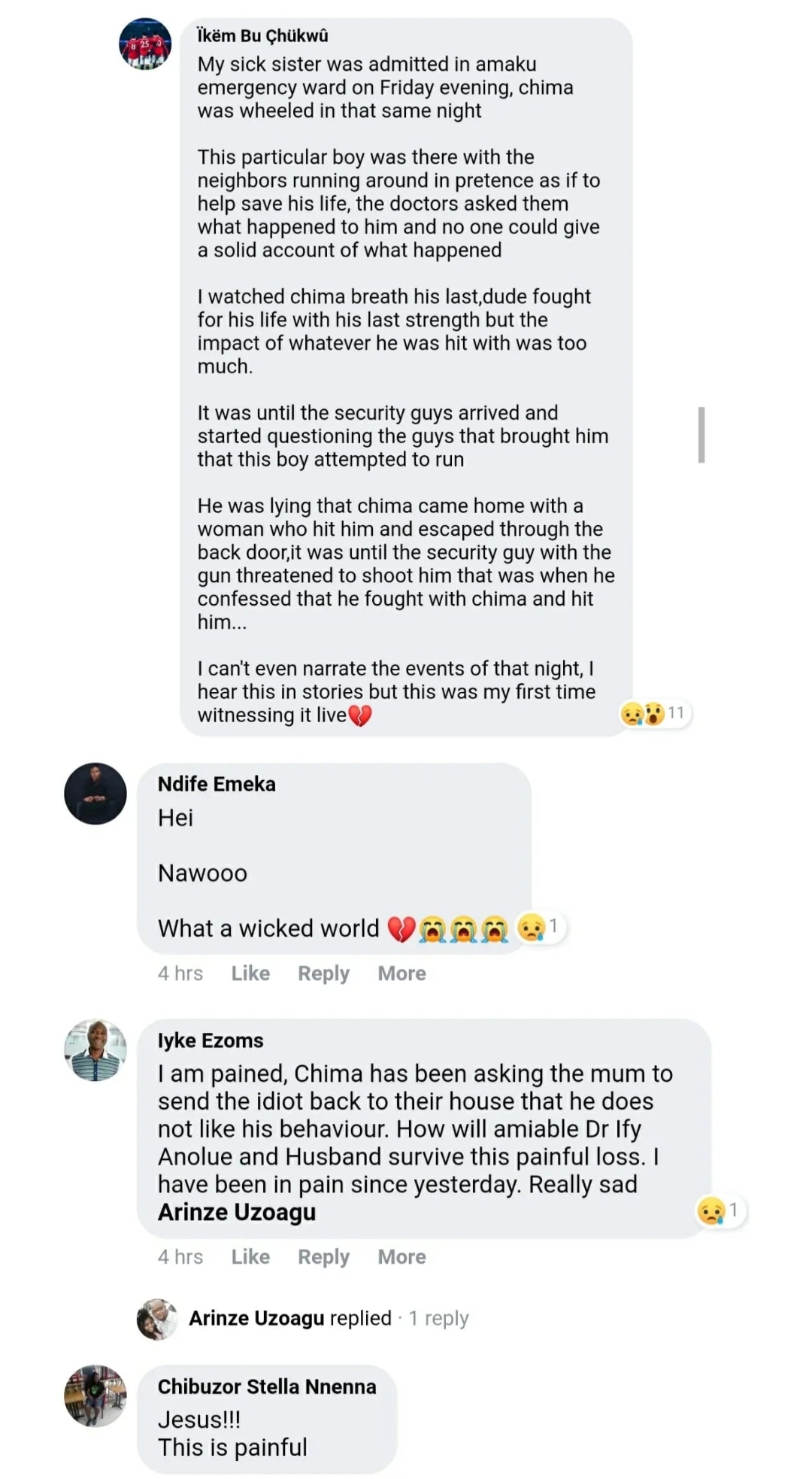 Video below…