Nigerians have lashed out at investigative Journalist Kemi Olunoyo after she called out Davido for not fulfilling a pledge he made some time ago.
Davido has last year promised some young business owners a sum of 20 million naira to help expand their business.
However, the death of his son, Ifeanyi left him devastated that he left social media.
Controversial journalist Olunoyo in a social media post, called out Davido for not fulfilling the promise.
This has not gone down well with Nigerians who lashed out at Olunloyo urging her to exercise caution since Davido is still mourning his son's death.
See reactions below: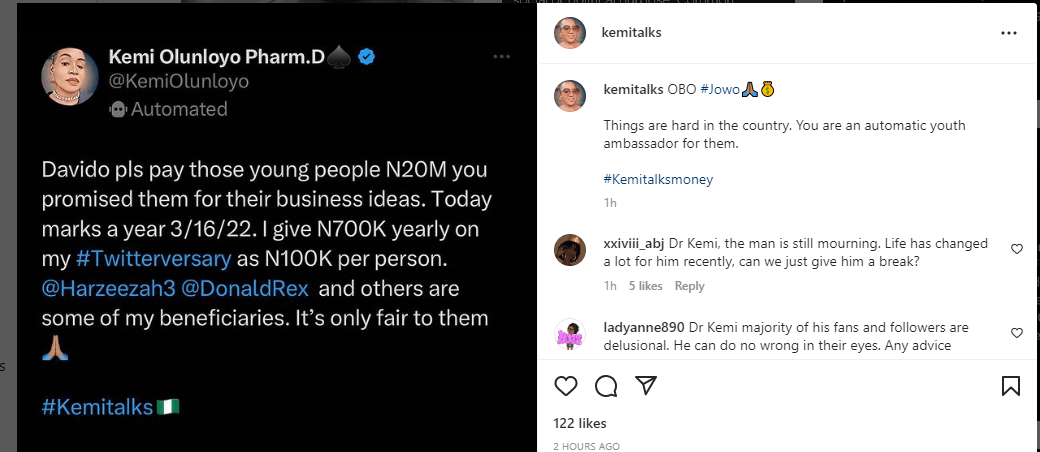 A user wrote; U need to take your drugs ma'am, u are having relapse
Another user wrote: Kemi, stop not now, let him come out of his pain, and you can do this outside social network, I thought you want to make peace with him but the way you are going now it will not work. Davido is a nice young man pls give him space.
A user wrote; Dr Kemi, the man is still mourning. Life has changed a lot for him recently, can we just give him a break?
Another user wrote: please leave Davido alone. You are sha looking for his attention sha, is he d only artiste in Nigeria?
A user penned: leave David alone dis woman, if he promised & he's yet to fulfill it let him alone now, david too is facin his own war abegii let him rest shuuuuuu! Na by force 2 dash money ni
Another user wrote: Are you being serious right now?huh who in their right senses would be thinking of David giving money to anyone at this point in time? He promised right it's not a debt …. Do you even bother to know what's going on in his life at the moment? If he's able to sleep at night, if his joy has been restored, if he still has his contagious smile, or if he is dying in silence??? For a mother you should understand better. Now is obviously not the time and place for such insensitive post.
A user said: It's none of your business if he didn't pay them , you to pay them if he didn't pay them . Ppl make promise too and don't fulfil it , not every promise we must fulfill 
Another user penned: Please leave this guy alone, we should always be sensitive around us. Haba, doing too much lately. Face your investigative journalism.