Nigerian entrepreneur, manager, and reality TV star, Chizzy recently dropped his two cents on love and relationships.
In a recent Twitter post, former Big Brother Naija housemate advised women to refrain from introducing their friends to their partners, as there is a strong possibility of the partner being poached.
In light of the recent viral reports about a woman whose friend allegedly stole her boyfriend after being introduced to him, the BBNaija star took to social media to express his thoughts. The reports have since circulated widely, eliciting various reactions from the public.
Chizzy provided women with guidance on maintaining healthy relationships, which was likely influenced by the recent chaotic events.
Ladies please let's b guided….for a healthy relationship stop introducing ur female friends to your man..Dey will definitely snatch him away from u………pure legit caping,
 he wrote.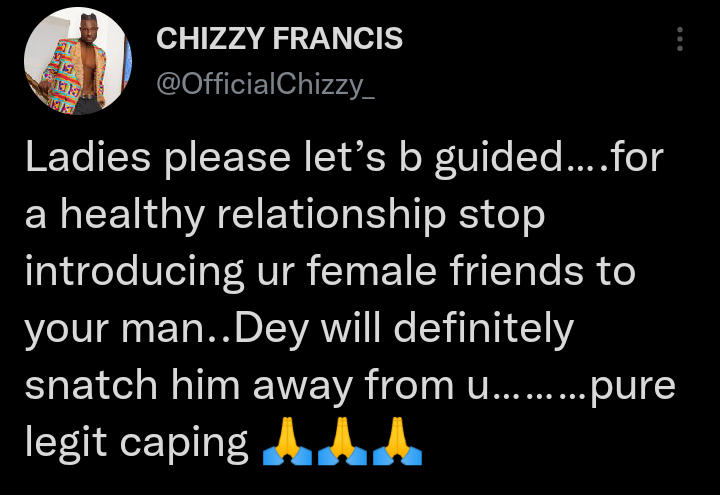 Fans' reaction to Chizzy's advise
Favorite replied the tweet: So men can't be responsible?
Another person wrote: I heard your best friend is dating the friend of his girlfriend. You're speaking in parable. You know the person but you can't mention the name. But whatever goes up must come down one day . Things are happening in this BBN street.
Uju Christaina wrote: You are right, chizzy but it depends on the kind of lifestyle her female friends lives
Stella Amarachi responded: Snatch with juju or without… Because d last time I checked, Determine men no dy fall yakata.
Another fan wrote: "Men are not loyal"