A Twitter user has taken to the platform to narrate how a man got sacked after he was caught in a CCTV footage masturbating in the kitchen of the company he works for. 
According to @Fagbohun_AB, the man was sacked two weeks after resuming his new job after being caught masturbating more than once. The tweet read; 
The way Village people dey worry some people ehnnn. U haven't seen a Job for Months, u eventually found one and they sacked u 2weeks later Reason; You were Captured on CCTV masturbating heavily in the Kitchen…. Not once, twice or thrice Within 2weeks oo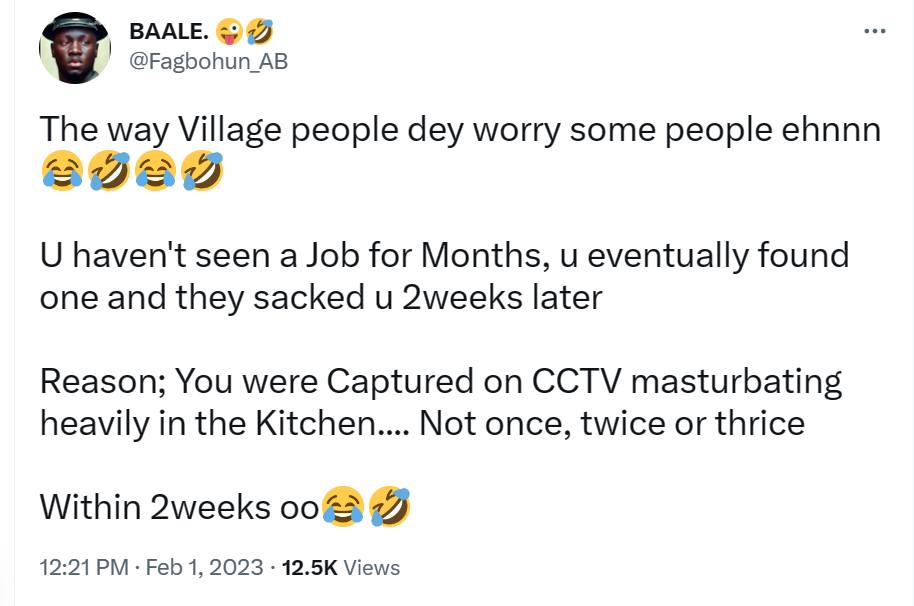 Reactions below…
lordoffashion_ wrote: I don't blame him o! To be in a relationship these days cost a fortune, talk more for carry Olosho! LoL. Them go use billing tear ur forehead LoL
Ikenna Ofoma wrote: So Konji made this man to Loose is Job?.. it's well oh.
Opemurode: If that is what happened is addicted to it
Anonym: Bad habits die hard Make he use his cum drink garri