It seems like all isn't well between award-winning singer, Zlatan Ibile and his babymama, Davita Lamai, as they unfollow each other on IG.
Davita Lamai, who base in the UK is the mother of Zlatna's one-year-old son, Toluwalase Shiloh Ainoghena Omoniyi.
Tontrends did a check on their Instagram pages and noticed that the lovebirds had clicked the unfollow button on each other.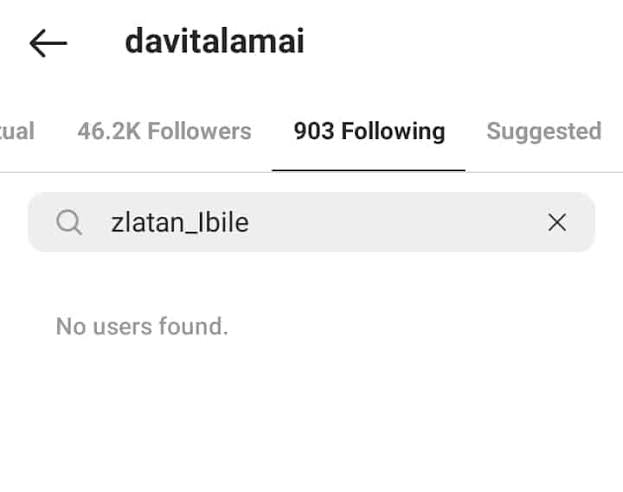 In the world of the online community, when lovers/friends unfollow each other, it means the relationship has hit the rock.
The unfollowing is coming barely a year after Zlatan brought Davita to tears, with his sweet gesture.
The singer on Sunday, March 7, 2022 had spoiled her with love and treated her to a good life and luxurious gifts on her birthday.
Davita got a Rolex wristwatch from the singer and an emotional video of the moment it was delivered to her was shared online. Davita shed a few tears as she received the beautiful gift from the singer. Party guests, who were present at the venue urged her not to cry on her birthday.
Davita denies being Zlatan's property
Tontrends recalls that Davita Lamai had denied being his property.
In a playful mood, Davita had posted a picture of herself on Instagram expressing her happy mood to which Zlatan himself responded with a laughing emoji.
One of her followers, by name of @rolly.vibelion had commented, calling the lady "Zlatan's property".
Responding to it, Davita stated that she wasn't anyone's property as she belongs to God only.
She curtly and promptly replied, " I belong to no man. Only God, thank you. Goodbye"
Davita Lamai is a graduate of University of Kent, UK. She welcomed her son with Zlatan in March 2021, and he was named Shiloh Toluwalase.