Paris Saint-German defender, Achraf Hakimi left his wife, Hiba Abouk, empty-handed and without any alimony following a divorce application she filed over allegations of infidelity.
She approached the court to seek the dissolution of their marriage and demanded half the football star's property in divorce settlement, however, it was discovered that he had no assets.
Hakimi had registered all his properties and assets under his mother, Sadia Mouth's name, so legally, he is not worth a dime on paper.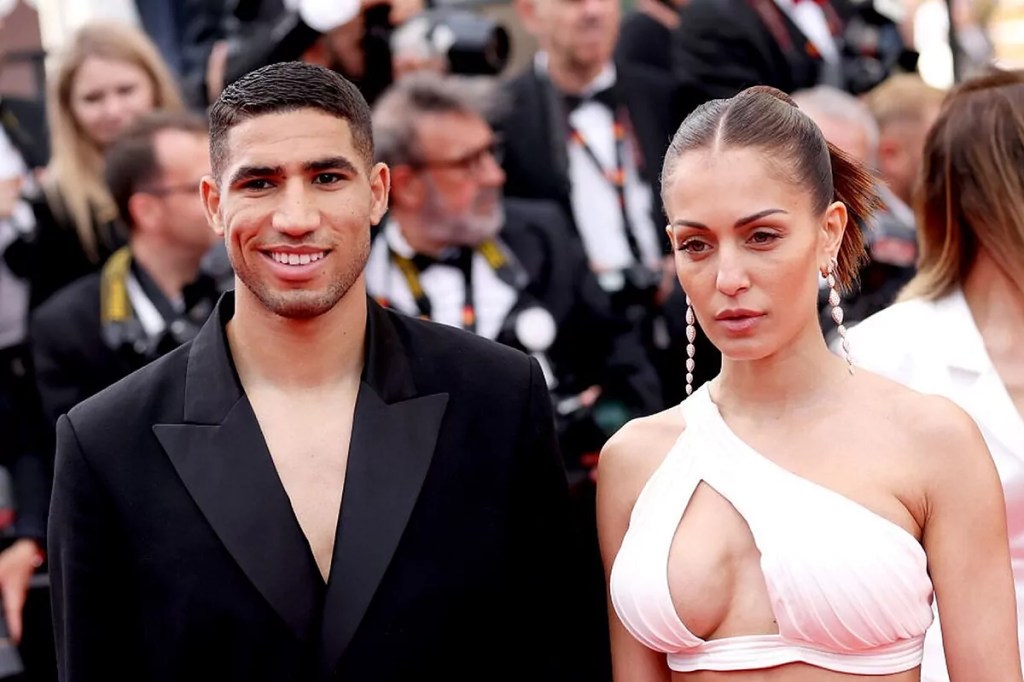 When Abouk, 36, took her 24-year-old husband to court, she expected to get an equal share of his €70 million upon separation, but she was informed that documents showed his assets all belong to his mum.
According to Stades Football Club; "Ashraf Hakimi's wife had taken the court for a divorce case and wanted them to separate the assets and divide them in court.
When the divorce took place and they agreed to share the assets, they realized Ashraf Hakimi had no assets and neither did the bank. Ashraf Hakimi had put all his fortune in his mother's name a long time ago."
Hakimi who receives €1 million monthly, started dating his wife in 2018 when he was 19 years and she was 31.
The star defender had earlier been accused of raping a woman he invited to his matrimonial home when his wife and the family were in Dubai.
An investigation was launched in last month into the allegation leveled against the Moroccan International.
Reactions below….
Anon: Chai! The boy get sense o. God bless his mother. After just 5 years, you wanted half his wealth. Yeye dey smell
Joycepreety: At least she should get child support for the children they bore together. Abi she no deserve that one too?
Elias Ukorobo: Depositing 80% of your salary in your mother's account doesn't mean you're under her control―it means you have good foresight. However, I bet you ₦5,000 that if you speak to any man who lost 50% of his wealth to his wife (through divorce), he'd tell you that he wishes he was under his mother's control if that would have prevented him from being taken to the cleaners. Granted, God instructed us to leave our mothers and cleave to our wives (Genesis 2:24), but some wives are ogbanjes. So, it's wise to tell your mother everything that goes on in your home so that if your wife wants to "carry you go where you no know" she'd tell you. You know, our mothers are women too. (They know the games women play). In the early 2010s, when banks were paying their employees ₦5,000,000 severance package, my first wife almost deceived me into moving to Canada. If I didn't tell my spiritual mother, I might have been in Canadian prison by now.
Stella Offor: His mom is smarter
ymous: So because they have been married for five years with 2years therefore he should give up half his wealth abi she no get work or business… The sons in question are they Jesus Christ… My dear most women have this entitlement mentality that's why the love court wedding …. If u chose to move away from a marriage do so because of ur happiness n mental health not material things u stand to gain…
Spacco: Why is it that, it is only men's assets that is shared during divorce? Rich ladies divorce and walk away with their entire wealth. Make una kontinue. Guys, get smart because they will get the wealth and start cruising with it.