The Theatre Arts and Motion Pictures Practitioners Association of Nigeria, TAMPAN, under the leadership of veteran actor, Bolaji Amusan, popularly known as Mr Latin, has disclosed why its yet to take a decision on actor Shoneye Olamilekan's brutality on a female colleague, Temidayo Morakinyo.
The body revealed that its yet to make a decision about Shoneye Olamilekan's brutality because they need to hold on to facts that led to the fight and will not want to act based on social media whims.
A lengthy statement titled "THE POSITION OF TAMPAN ON SHONEYE OLAMILEKAN" was issued to address the rage of netizens about their slow reaction to the allegations.
TAMPAN also disclosed that Shoneye Olamilekan has been summoned to face the disciplinary committee and his membership to the body has been withdrawn.
"THE POSITION OF TAMPAN ON SHONEYE OLAMILEKAN
Sequel to the issue of physical abuse which occurred between Shoneye Olamilekan and Morakinyo Temidayo during a film location recently; the entirety of our noble organisation, TAMPAN, totally condemns this nefarious act as it is a violation of fundamental human rights as well as tarnishing the cultural heritage of the Yorubaland.
However, it is worth to note that TAMPAN is an organisation that has procedures towards addressing every issue. Our association is not a kick-and-start engine, and every reactionary process is in line with the organisation's mode of operation.
Therefore, underground procedures have been in motion since the video surfaced online and the lady involved has been called to show empathy.
Nonetheless, it is pertinent to understand that the reason the organisation has been mute on the saga is that TAMPAN, as a body, does not see social media as the first platform to report to since there are executive leaders who take decisions on issues as such at the secretariat. Most times, delicate matters like this are usually handled within and will be reported to the public after all necessary due process according to our constitution.
We have invited him to face the disciplinary committee, and his membership has been placed on hold.
Once again, we express our utmost displeasure towards this event.
An official letter of summon has been sent to Shoneye Olamilekan and all necessary actions shall be taken accordingly."
Post below…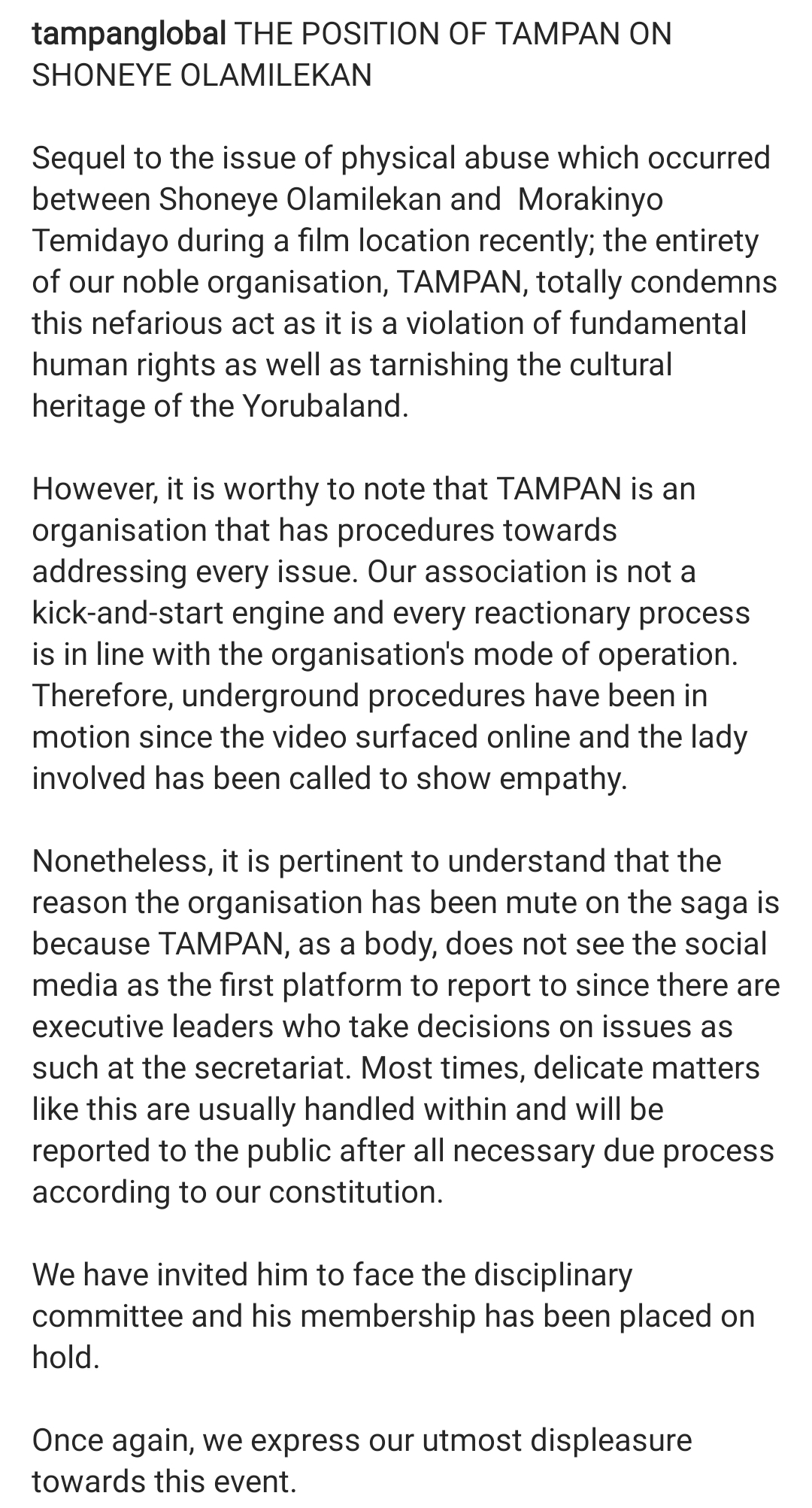 Hours ago, Tontrends reported that Temidayo Morakinyo accused Shoneye Olamilekan of physical assault, claiming the actor stormed her movie set in Ibadan, Oyo state with some goons to beat her up.
According to the victim, Shoneye who is known as Papa Showw punched her in the face and left her with a broken lip for reporting his unruly behaviour to her bosses on Thursday, May 18.
The actress claimed the issue started while they were on a movie set. She disclosed that Papa Showw summoned her rudely to buy him a drink and she felt ridiculed by how he addressed her, but she obeyed his wishes. Temidayo Morakinyo further disclosed how she reported him to her bosses, Afeez Abiodun and Adeniyi Johnson who promised to call him to order.
In retaliation for her report, Papa Showw stormed her movie set to beat her up.