Netizens have taken a swipe at self-acclaimed journalist, Kemi Olulonyo after she did the unthinkable to the Labour Party Presidential Candidate, Peter Gregory Obi.
The controversial Olunloyo took to her Instagram page to share an edited picture of Peter Obi looking old and crying. On the picture, she wrote: " INEC took my candy like a baby. Now I'm crying". Her post comes days after Peter Obi cried on National TV during his press conference to address the 2023 general election.
The former Anambra State Governor confirmed he will be taking legal action after losing the 2023 presidential election, However, his actions got Netiznes emotional.
Sharing her opinion, Kemi Olunloyo advised the politician to start a Point of Sales business. SDhe wrote: "I heard Peter Obi was crying on National TV. For what? Nigeria is nobody's candy🍭🍬Start a POS business. Supreme Court has kuku released the old Naira."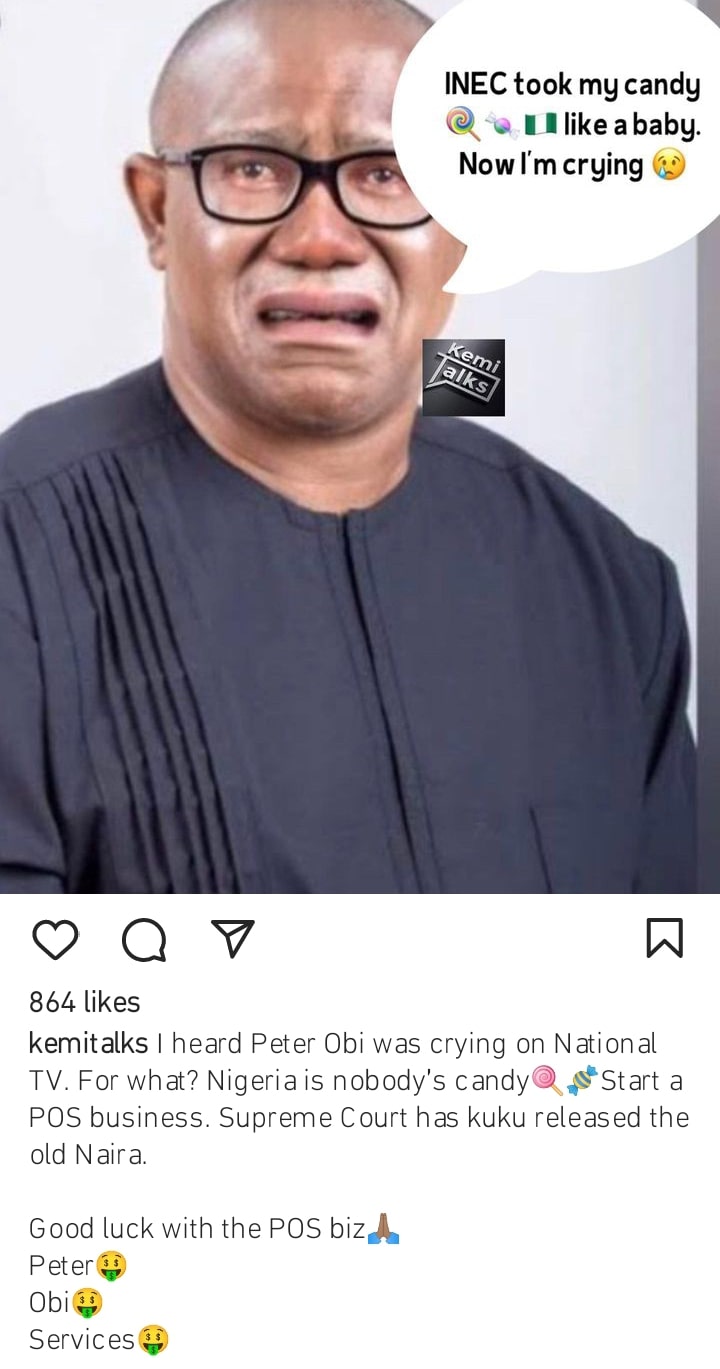 Netizens Blast Kemi Olunloyo for Mocking Peter Obi
Kemi Olunloyo's action on social media didn't sit well with Netiznes as they took turns to blast her. others noted that she had predicted that Atiku Abubakar of the People's Democratic Party would win the election but he did not.
One Prisca wrote: "Sometimes you'll say sensible things and Sometimes you'll say very very sensele*** things like a confusionist. One wil wonder why you call yourself investigative journalist. Journalist isonu"
One Bubble Star wrote: "You predicted Atiku to win …madam prophecy how far with your prophetic prowess??? 😂😂😂
One Star Queen wrote: "It's funny how u mock a man that is doing better than u. Ur just a saddist"
One Kelly Brov wrote: "This woman needs to go back to kindergarten cause I feel you're a kid Upstair 😡what nonsense point did you prove"
One Kenny wrote: "He was emotional when he shared his experience with a graduate who could not afford a few thousand naira to start a business. He did not cry because his mandate was stolen. Dr Kemi , pls do your findings ma'am."
One Lola Shub wrote: "If it was someone who insulted you like this. You will start shouting ptsd and all sorts of emotional rubbish. You will be okay. Na malt you need"
One Ogami wrote: "If we call u Kem kem now or Aji malt you'll start noise making, ranting about your degrees… it's well actually, you won't call this Journalism, it's obviously ment…"
One Esther Temilade wrote: "For your qualification and exposure, it seems like a waste. No wonder you are still stagnant and never move forward. A renowned journalist or whatever you called yourself will never take side during this odd period. You proof to be lacking empathy dignity respect and very unprofessional and unintelligent to me. I remembered donating money to you when you are crying too for your personal needs, not even the needs of the country. You are here mocking those who could be of help to you in future. No wonder everyone distant themselves away from you. Keep away from PO. You haven't seen anything yet! You are yet to forgive Davido who also mocked you and you are here mocking PO. Stop having enemies, life is not forever…"
One Rosie wrote: "After you will say you are an investigative journalist. Why didn't you investigate why he cried. Or did you still post this after you found out why he cried? He cried BC of what the couihas turned intelligent pet"
One Rossy wrote: "nd when they come here and disrespect you, troll you, you go dey shout stop it I'm 60years… I really don't blame them for seeing through you. Smh"
One pure gold wrote: "Dear Dr. Kemi, what's the intent of this post? Disrespect? Comedy? Mockery??? Whatever the intent, I don't think it represents the "moral and professional ethics of the profession you so revere.."
One Ebynze wrote: "We are still waiting for the last episode of adeleke curse, which u abandoned immediately David got married to chioma 🤣… Same way u got disappointed then, u shall be disappointed again… U are openly supporting corruption, an elder like u,, SMH"
One Monday wrote: "You don leave Davido and the Adeleke na Peter Obi u dey worry now? Cha investigation journalists"
One Vera wrote: "You predicted Atiku to win madam prophet, what happened"