Fair and beautiful Nollywood actress who doubles as a musician, Angela Okorie has recounted her experience in London after gifting an old woman money.
The divorced mother of one via her verified Instagram page on Tuesday, February 7 revealed how God came through for her after she parted with 25 pounds to hunger elderly woman.
Sharing a photo of herself and the woman, Angela Okorie wrote: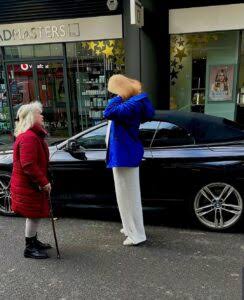 "So, I met this old woman and she said to beHey beautiful can you help me with anything am hungry and I said oh mama hold on. So i dipped my hands in my pockets found. 25 pounds and gave it to her and she started crying I was like mama Stop crying, so she prayed for me and said you will never lack. That same day I went to a restaurant and ordered for food I never knew I didn't come with my wallet literally no card or cash with me, that was how I became stranded so I asked my driver do u have some money with you pls am gonna give you when I get to the hotel , he said no problem and paid for the food and asked me not to worry about the money and I was shocked and said in London? I knew it was God who did.
Moral of the story: Never you stop giving. You never know when or where you will need help ,if you are a giver one thing I know for sure God will always send an Angel to you
In the midst of any situation you find your self , he will always be there 🙏 Never you stop giving…anywhere you go spread love and little kindness it will come back to you❤️ #legitqueen."
Angela Okorie, has earlier said she prefers to keep her relationship private because she doesn't want the unsolicited opinions of third parties.