A Nigerian Twitter user has recounted how his father died after killing a crab in his compound.
The Twitter user with the handle, Tinny_ vanilla said his father had earlier warned him not to kill any living thing he sees around.
He said that he usually kills anything he sees crawling around because he didn't like them.
According to him, he had killed a crab that was crawling into their compound late at night and the next morning his father was dead.
"My dad has always Instructed me not to kill any living thing I see around, 11pm 8th April 2010 I saw a crab walking inside the compound so I killed it. The next morning my dad was dead already," he said.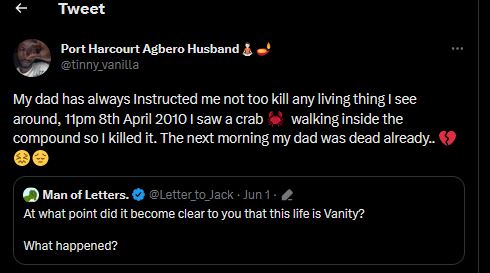 Tinny said that he keeps thinking about how he took his father's life and why his father's life was in the crab.
His tweet elicited mixed reactions online.
Ewai_bekee reacted: "This crab thing and port harcourt people na 5/6 funny how it always turns out to be true. But why una dey always choose crab? Why not dog at least em fit run for em life small."
Desola__xn reacted: "In Yoruba, crab signifies life. Once her father instructed her she should have found herself and listen to him because it's not easy to see something and let it go. It can be draining sometimes so that was why your father died but normally he should have resurrected."
Blossom_bie said: "Your dad was the crab or not? I'm not trying to be insensitive, I just don't get it."
Popsylala commented: "Did you let your family members know?"
Unclemahamz said: "I'm so sorry you have to live with this knowledge forever. Sounds like a huge burden to bear."