For several months now, the news of Busola Dakolo allegedly being sexually molested by the popular pastor, Biodun Fatoyinbo, has had many Nigerians clamoring for justice.
Well, Busola has now reportedly demanded a clearly worded apology on the front pages of two national newspapers running for seven consecutive days, a personal apology showing Fatoyinbo's honest remorse for his misdeeds as well as an N10m cost of action fee, to perhaps cover the cost incurred in process of the lawsuit.
See the photo below: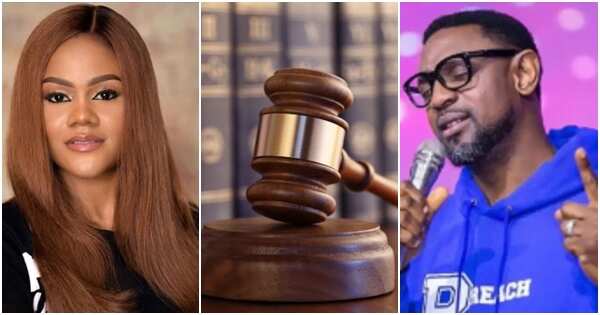 After the news hit social media, many Nigerians have had mixed reactions to the report. While some people expressed that they are already tired of the case, others used the opportunity to enlighten others that Busola did not demand N10 million from Fatoyinbo but only asked for the cost incurred in the process of the lawsuit.
See some comments below:
Cost of action simple term means the fees incurred during the filing of the suit and pendency of the suit in Court. It also includes Transportation, Stationery and other related logistics.

— Adetoro (@olumidetorque) September 9, 2019
https://twitter.com/ahnnie_11/status/1171085077356433408
So many idiots are saying they're tired of Busola Dakolo. Imagine how tired she is of being disbelieved and knowing her rapist is walking scott free.

— Ọmọ Get Inside (@oh_yinda) September 9, 2019
No Busola Dakolo doesn't need to move on. She can fight to get justice. She decided to fight for it so she is determined to get it and that's fine . Nobody should dictate to a survivor of a rape how to handle it . https://t.co/Lra3s6rYHs

— ebele. (@ebelee_) September 9, 2019
Before you join the foolish crowd
take time to read and understand👇

: the N10m is the estimated COST of the apologies Fatoyinbo is expected to make on 2 national dailies and on national TVs for 7 days🙄.
🔊Busola Dakolo is not demanding N10m from Pastor Fatoyinbo pic.twitter.com/K1G7aXyP29

— Blossom Martins (@blossommartins) September 9, 2019
Busola Dakolo and Biodun Fatoyinbo should take their wahala and go… I'm tired abeg pic.twitter.com/wrjbgXdTXx

— As A Boss..! (@JC_Jokes) September 9, 2019
This Busola Dakolo and Biodun Fatoyinbo gist just be like season film. Walahi, aa le wo tan. I'm tired of next episode already. pic.twitter.com/T2Ws5X2sv1

— U n c l e K h e n i e (@_iamkhenie) September 9, 2019
What Busola Dakolo is going through is what makes people commit suicide. No single support from anywhere. Nigerian men mostly either choose to be unenlightened, "un-empathetic" or rape apologists. the level of deliberate "unenlightenment" is astounding. Women are really not safe

— Soul (@Ms_Knzi) September 9, 2019