Nollywood actress and dancer, Doris Samuel Akonanya is engaged to social media influencer Darlington Chidera Ibekwe.
A trending video shared on her Instagram page showed the moment her lover, Darlington Ibekwe, engaged the actress on Wednesday.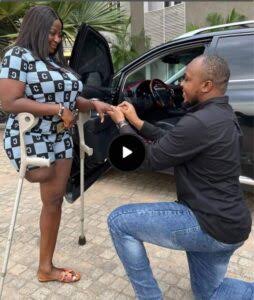 Speaking in the video, Darlington said, "This is the first time I'm being available for your birthday since all these years. Whenever its your birthday, I'm not always around. I want to apologise for all those years, and I said I'm going to make it up today.
"Happy birthday, my love. And one more thing since I'm available today. I want to be forever with you. Will you marry me?"
Reacting to the development, the excited actress said," So guys, today is my day. The most important thing in this life is that love is very sweet with the right person. Like this, I'm taken."
Video Below….