Social media has been agog following the shocking news of Davido and his long-time friend, Cubana Chief Priest sour friendship.
Tontrends reported last night that all isn't well between the music superstar and his best friend, Cubana Chief Priest.
The two who were like two peas in a pod and were the envy of many have left many surprised as they unfollowed each other on the photo-sharing app.
Tontrends a check on their respective pages and noticed that the best friends are no longer following each other.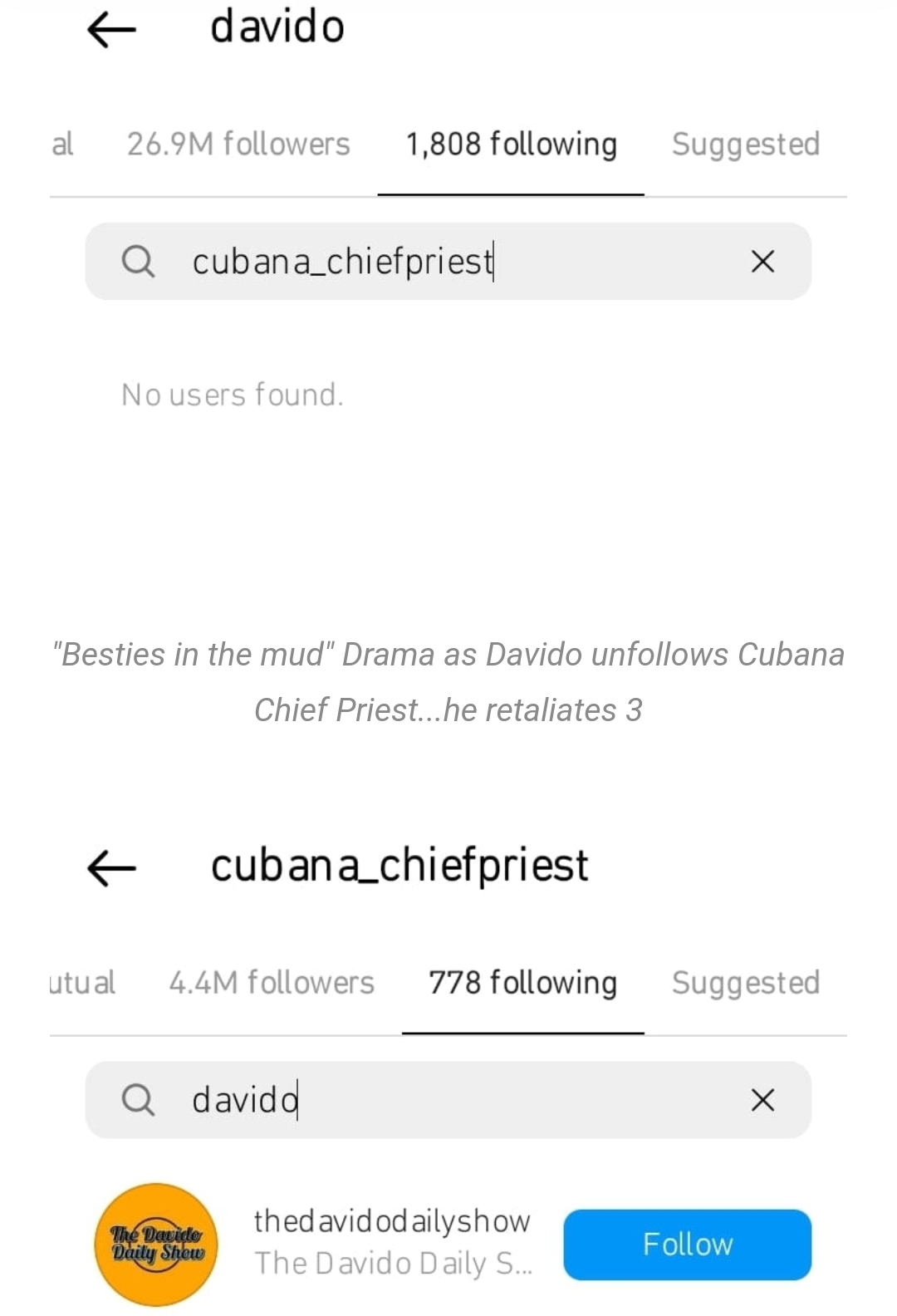 To further fuel the rumors of beef, Cubana Chief Priest didn't promote Davido's Lagos concert, which is unlike him.
This came as a surprise for many as early this month, Cubana Chief Priest had praised Davido over his new album.
The businessman stated that what was meant to finish Davido only made him stronger.
He noted how tribulations would come one's way but the ability to conquer stylishly is excessive grace.
Welcoming him back to the spotlight, he sent love to him.
Following the news, many have taken to social media to debate on it. While some jubilated over it, others tried figuring out what could have led to their split.
One Hameed Ahadayi believed that Davido's baby mama pregnancy saga could be the cause of the rift as Cubana is a proud lover and fan of Chioma Rowland, Davido's wife. He wrote, "Maybe because of Chioma!! And baby mama pregnancy saga
One Aubier Gembock wrote, "Mental peace over friendships/relationships/family/work. Prioritize your mental peace, and you will live longer.
One Winnie Layer wrote, "Thank God May it remain permanent. I never liked the friendship with Davido. That Chief Priest is a user
One Becca Szn wrote, "Make Chief Priest sef rest! Meanwhile, he should check on his offspring in Kenya
One Havilah Divas wrote, "If you're not having peace in any ship free them. Everyone will be alright las las.
One Ezekiel Imma wrote, "Timeless unfollow
One Adema Chimso wrote, "Maybe Chief Priest don cross-boundary
One Feminist Amusu wrote, "Very good. Never loved their friendship. May it be permanent