Nollywood actor and director, Yul Edochie once more admired his good looks and ranked himself high.
The father of five took to his Instagram page a few minutes ago to share a new and stunning picture as he admires himself with a nice caption.
Yul referred to himself as a forty-one-year-old who looks ravishing, the David of this generation and the man after God's heart.
He wrote: "41 never looked this beautiful. King David of our time. A man after God's own heart.
Tontrends recalls that months ago, Yul Edochie celebrated his 41st birthday on 7th January. He took to his Instagram page and appreciated his creator for the gift of life.
Describing himself as Odogwu, Yul announced that he is 41 today. He wrote: "ODOGWU is 41yrs old today. I thank God Almighty for the gift of life. Happy birthday to me. EZEDIKE".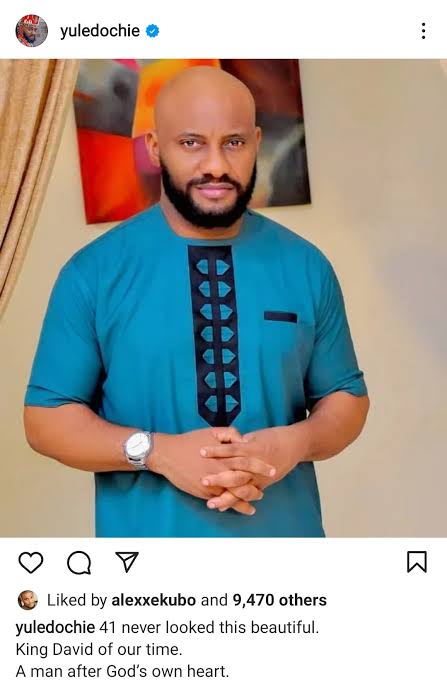 Netizens shade Yul Edochie on his 41st birthday
Tontrends recalls that Netizens seized the occasion of Yul Edochie's 41st to shade him for being a polygamist.
Yul had declared himself a proud polygamist with claims that God gave him the go-ahead to cheat on his wife and eventually marry his baby mama, Judy Austin. His first wife, May on her path clearly revealed her stance against polygamy.
Netizens who are still of the opinion that Yul destroyed his beautiful family slammed him on his 41st birthday.
One Skach interior wrote: Past glory, …only God knows what else you will do to your family this year.
Vicli wrote: What is wrong is wrong and what is bad is bad as men condemned it so as heaven does we do not hate you but we hate the wrong decision u took as a role model…….. Happy Birthday to you Nwa.
Omolachic wrote: Odogwu the polygamist wish you all the blessings of today and beyond amen! By the time you're 42 I'll be your 3rd wife , your wealth would have become more plentiful.
Bunny Girl wrote: Happy birthday Yul, I pray for more wisdom to navigate life, I also pray that you are free from the shackles you have been caged in.
Lilly Ibegbu wrote: My own is the way they are calling God in defence of their attitude. Indeed God is a patient GOD. It don happen, it's the punishment ( karma) that is next. Because life has a way of paying you BACK. For every pain, you caused the mother of your children and the wife of your youth MAY, may you receive it in million times. Age well.
Mira Onyi wrote: So at 40yrs only and you destroy your sweet home build under 18yrs. You have mind oooo. Any well you go for the wrong person and she will regret it soonest. Happy birthday.
Obi Franklyn wrote: Odogwu dizi confused. Odogwu adirozi together. He should better find a soft name biko.