Comedian AY has penned a heartfelt tribute to the former Governor of Anambra State and Labour party' presidential candidate in the just concluded election, Peter Obi, for his unwavering commitment to building a better Nigeria.
Even though Obi lost to Tinubu in the 2023 presidential election, in a recent social media post, AY praised Obi for his courage, hard work, and ambition and expressed his pride in Peter Obi's plans for the future of the country.
From the very day you honoured my open invitation to speak with Nigerians concerning the 2023 elections, I became proud of you and, what you represent, he wrote.
AY went on to encourage Obi to stay true to his genuine intentions for the country, and assured him of his unwavering support, no matter what the future holds.
He penned: Till this very minute, you still make a lot of people feel so proud of your courage, handwork, ambition, and plans for a better Nigeria. Continue to be honest with your genuine intentions for our country, Nigeria .
No matter what you do in your life. Just know that i will always be supporting you.
Post below…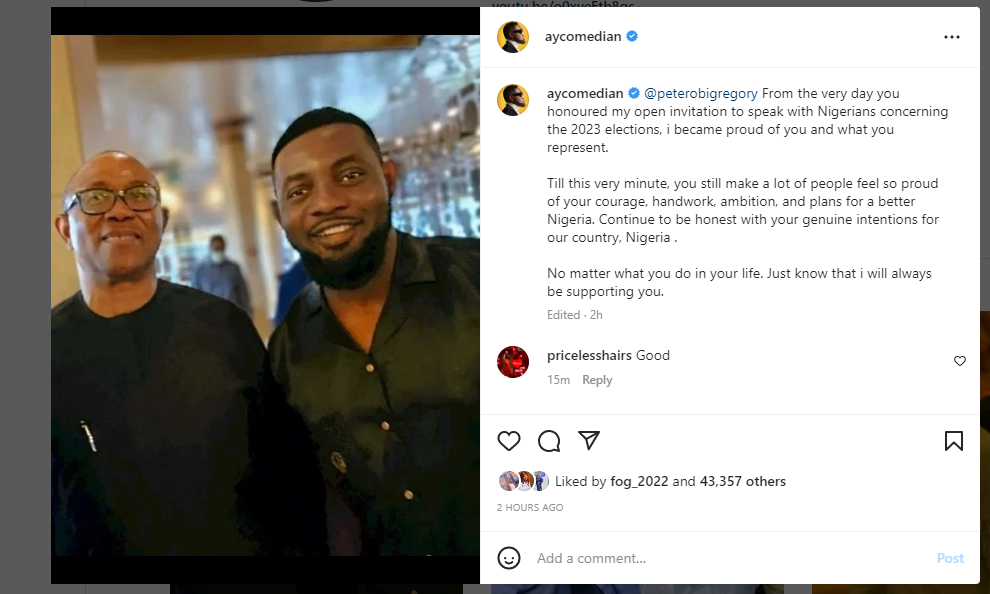 The post has been widely shared on social media, with many Nigerians echoing AY's sentiments and expressing their admiration for Obi's leadership and vision.