A single lady has cried out over her perpetual state of singleness, coming out to find a husband on social media.
The young beautiful lady, @PreshybO, made this request known on social media platform, X, where she posted the video with the caption "My husband might be on your timeline 😂"
In the two minute long video, she took to describing herself saying;
"My name is Precious, I am 26, I live in Lagos, Nigeria.
I am single and searching and lonely as fvck."
She also adds that she is an influencer, a UGC creator who loves singing,swimming and partying. According to her, she is a person who is fun to be with but also an introvert. She dreads going out alone because of her social anxiety, choosing rather to go in a group.
While outlining the kind of husband she wants, the lady underlines her preference for chubby men, adding that she likes men who earn a honest living, gentle men who know how to treat women and well. She is especially attracted to men who know how to dress smart, citing Native wears as a standard.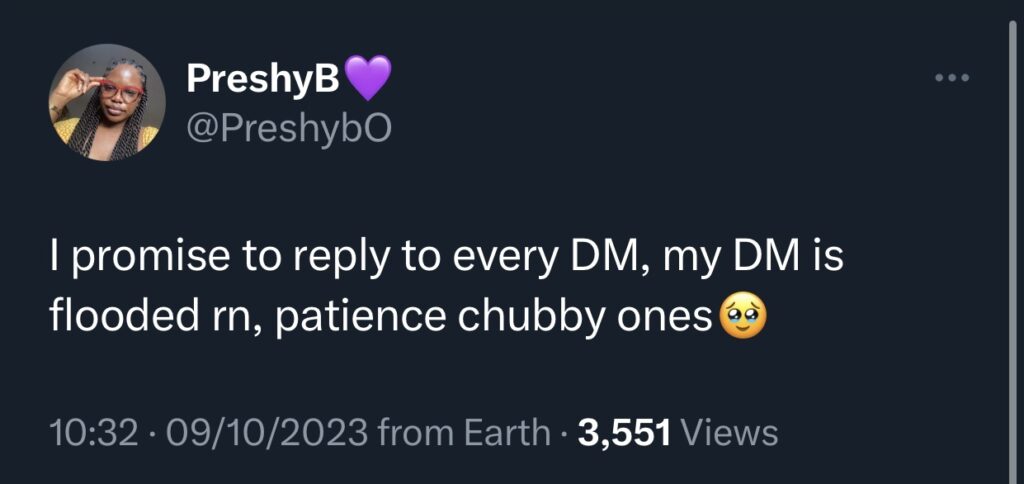 She has also updated the public on the influx of DMs she has received since making the video, while promising to respond to everyone of them accordingly.
Video below…
My husband might be on your timeline 😂 pic.twitter.com/IrGUQdKBIC

— PreshyB💜 (@PreshybO) October 8, 2023