Nollywood actress and entrepreneur, Lilian Esoro has teased a tell all on her divorce and past relationships.
The mother of one revealed via her Instagram page that she is now willing to share how she dealt with her pains, heartbreaks and fears.
For her, it has been a journey and she is now ready to share it on Instagram live session with a clergyman.
"it's been a journey…. I am willing to share. How I dealt with my PAIN, HEARTBREAK AND FEARS. Join @bolajiid and I by 7pm on Insta live".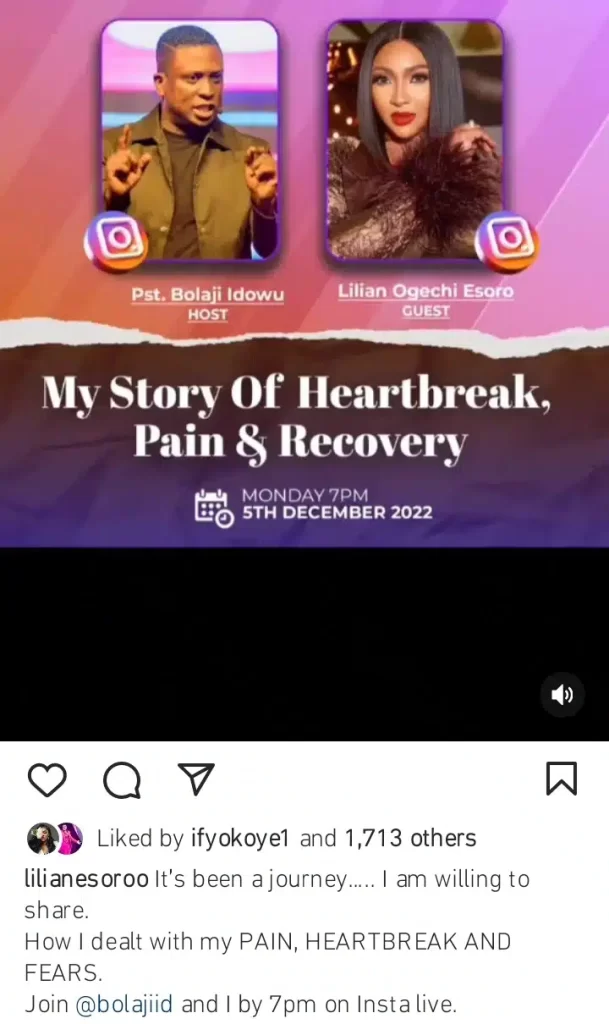 Lilian and Ubi Franklin divorce Recall that Lilian Esoro had filed for divorce from Ubi Franklin, a year after their wedding.
The couple went in and out of court for years as their divorce case had been stalling after the Judge presiding over the case reportedly threw out the case stating the reasons for their divorce were invalid.
A judge at the court revealed that the reason for filing for divorce was not valid because Lilian Esoro had claimed that Ubi Franklin took care of both her and their son and that they are friends.
A source who was at the court room during the divorce proceedings said:
"She tell them say make Dem go settle their differences say nah small pikin dey worry Dem.Stella nah so Judge take cancel the divorce ooh and everybody inside court room burst into laughter oh" However, Tontrends gathered that the actress' marriage was offically dissolved on Thursday, January 28th, 2021 at an Abuja High Court.
The two got married in November 2015 and separated about a year after. Lilian first filed for divorce in a Lagos High Court and it was denied and Ubi filed in Abuja and the divorce was granted.
They share a 4-year-old son, Jason. Ubi opens up on divorce from Lilian While Lilian Esoro, remained tight-lipped about their divorce, Ubi Franklin hinted at the cause of their marital break-up. Ubi, in a mature way on Instagram, had indirectly revealed what went wrong in their marriage.
"When we put up with each other without love, then the result is grudges, resentment, hate, and a general dislike for others. Putting up with each other in love looks different. Our failure to bear with one another in love is why all sorts of relationships fail. Friends, we need to admit something.
People are going to irritate us. And I know it is hard for you to imagine but you irritate people sometimes too. We would like to think that everyone else is the problem.
But we need to consider that the problem is you. Can you imagine living with you? Can you imagine being around you with all of our quirks and idiosyncrasies? We must stop living with unreasonable expectations of others. We do not place these expectations on ourselves.
We must stop living with unreasonable expectations of others. We do not place these expectations on ourselves. We are to bear with one another in love. We will not cease to love others because of their faults!".