Eyebrows were first raised when Grace Mugabe, not known for her academic skills, was awarded a doctorate by the University of Zimbabwe.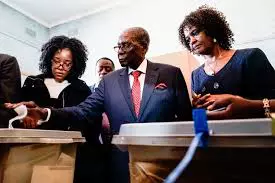 She then took over the ruling Zanu-PF's powerful women's wing, a position that gave her a seat at the heart of the party's all-powerful decision-making body, the politburo.
And in spite of her political inexperience, Grace told a rally that she wanted to become president. She went on to campaign against political rivals, even succeeding in sidelining some of them, including former Vice President Joice Mujuru and seven other government ministers.
But by 2017, the Zimbabwean army had enough. Alarmed by Mnangagwa's sacking as vice president and Grace's ever-growing grip on power (if you wanted to get in touch with Mugabe at the time, you had to go through the First Lady's office), the army put Mugabe and Grace under house arrest.