Popular Nigerian socialite, Cubana Chiefpriest, has now fulfilled his pledge to Yusuf Alabi, the young boy photographed at Peter Obi's Lagos rally.
Recall that the socialite had reacted to the viral photo by asking for the boy to be found because he wanted to change his life and get him off the streets.
In a new development, Chiefpriest has now located the boy and established communication with him to the joy of Nigerians on social media.
Cubana Chiefpriest shared a post on his page of Yusuf holding a paper with his name and bank account details.
The socialite called on well-meaning Nigerians to join in and donate for the youngster to be taken off the streets.
According to Chiefpriest, Yusuf is too young to be a truck pusher and doing offloading jobs.
In his words: "Grace Found Him, Please Help Take Yusuf Out Of The Streets, He Is Too Young To Be A Truck Pusher & Doing Offloading Jobs. Let's Sow A Seed Of Faith For His Transformation As We Work, Pray & Hold For The Transformation Of Nigeria With Peter Obi. No Amount Is Too Small His Account Is There In His Hands."
Post below….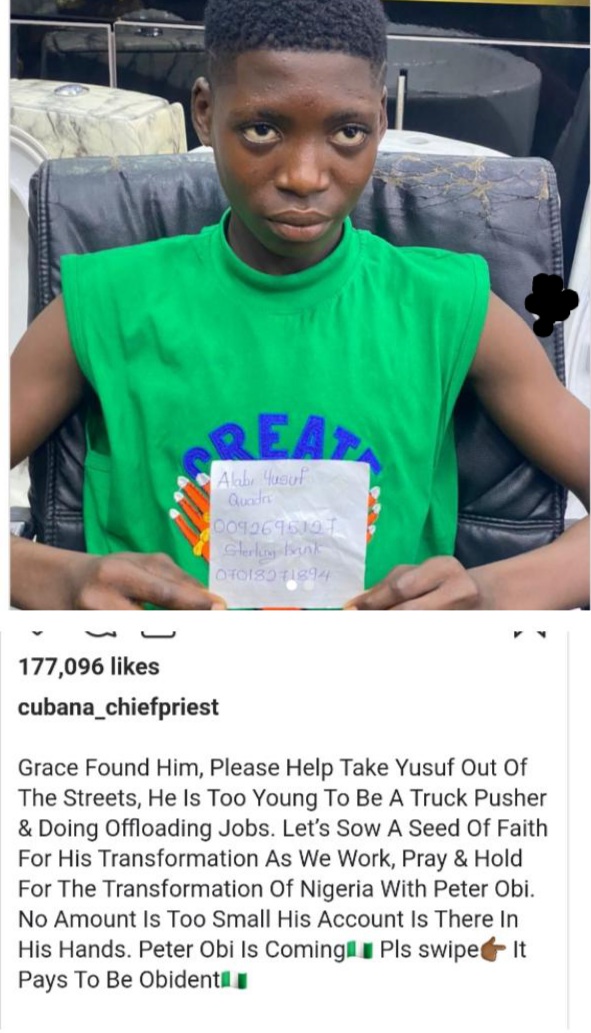 In reactions many commended Chiefpriest for keeping to his word and trying to help young Yusuf off the street.
Read some of their comments below:
Tmtpilot: "100K sent…."
instigator_ph: "Wow. Nice one @cubana_chiefpriest . I'll send mine immediately. Lucky boy. ❤️❤️❤️ one love."
2nitdontee: "God is the greatest,,,,,,, It's Yusuf Time today, it's your time tomorrow,,,,, Ahead Ahead ,,,, God bless chiefPriest."
its.giftie: "When it's your time, it's your time"
lemuel_504: "This is a good gesture , but Chief it will be good to help this guy leave the street if he can be mentored. I guess with your influence you can talk to pple like Tunde a guy who is changing the lives of kids who live and sleep at oshodi under bridge . Yusuf will be mentored and donation given to him will be used judiciously