Aspiring Guinness record breaker, Chef Dammy causes a stir as fans vouch for the delicious taste of her food as seen in a viral video.
It is worth noting that Chef Dammy started her cookathon on Friday, June 9th, with the objective of cooking continuously for a total of 120 hours.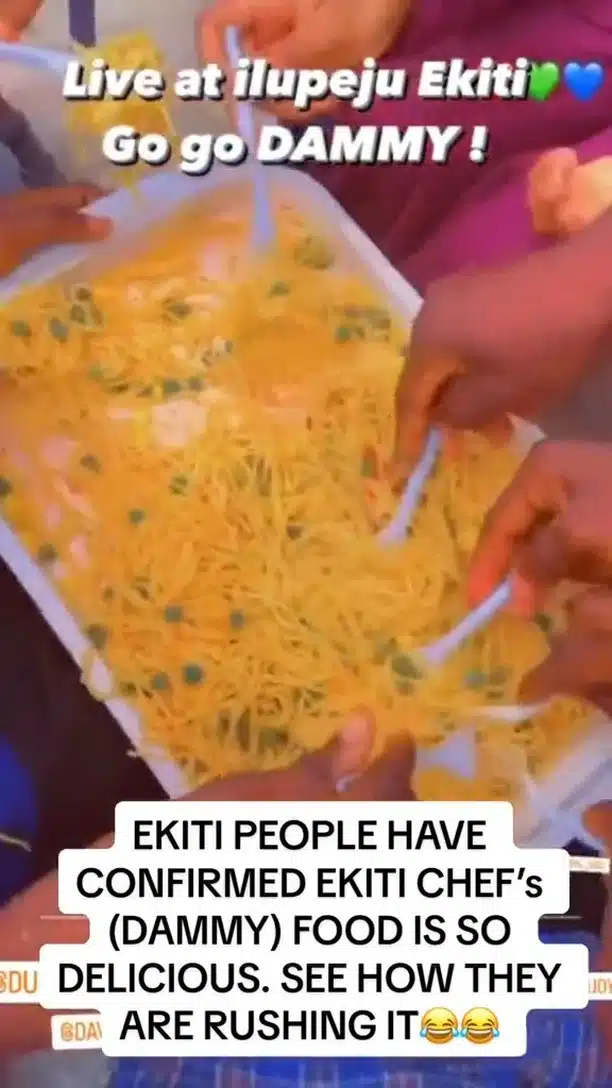 Chef Dammy's aspiration is to surpass the current Guinness World Record for the longest individual cooking session. Currently, the record is held by Latan Tondon, who cooked for a duration of 87 hours and 45 minutes in September 2019.
Nevertheless, Hilda Baci, a Nigerian chef, cooked for 100 hours in May 2023, and her documentation of the cooking session is currently being reviewed by the Guinness World Records.
A video making the rounds on social media captured the moment fans of the 120-hour cookathon chef rushed a tray of assorted pasta while clamouring about its palatable taste.
Supporters rushing a tray of asssorted pasted at Chef Dammy's cookathon. Credit: Thingsdeyoccur / TikTok
"Ekiti people have confirmed Ekiti Chef's (Dammy) food is so delicious. See how they are rushing it," the caption on the video stated.
Reactions trailing delicious food of chef Dammy
Daisy426watin wrote: "Dem dey rush na hunger won finish Dem even if e no sweet Dem go eat am na so Hilda take cook spag me no fit cook spag like this"
Eric mercy penned: "Na oil dem use cook the spaghetti 😂😂 Nigerian go always support as far as na food😂😂"
YVONNEGOLD COLLECTIONS said: "People are not routing for her bcos she is not popular and not from a rich background….Go girl!! The sky is ur starting point"
Jay💜😜😈 stated: "Sorrows sorrows prayers 😂😂😂😂"
loner_🥺🥀 added: "Na hungry people full this one oo😂😂😂😂💔💔💔"
bhad_man said: "Let the poor breeeeth na chaii 😂"
Watch the video below …