A young Nigerian man, Ola Atanda Abdullahi, has lamented over his inability to get a 'personal' girlfriend' According to him, in Nigeria everything, including girlfriends are shared.
"I wish I can have my own personal girlfriend but in Nigeria we share everything," he wrote.
Post below…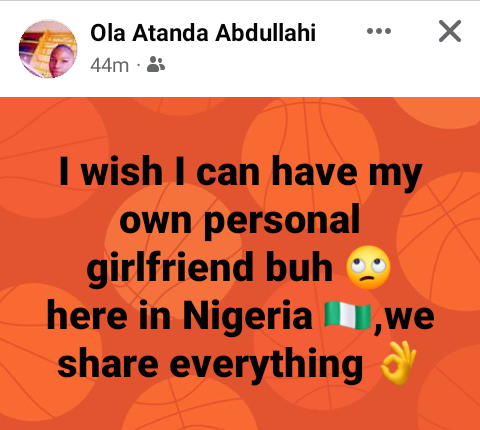 Réactions below….
Sternn: Concentrate on your education and excel in same. You'll meet your personal girlfriend along that path. Other girls who want to be personal girlfriend will also rush you when you are successful afterward.
AnoJohn: Do not personalize and waste their time, go to school when you're ready for marriage you'll have 1. Too many men waste women's time in Nigeria.
kendoma: He is young though but makes a lot of senses, no loyalty in relationships anymore, vise versa, exactly how Nigeria men are behaving here in UK, you left your wife in Naija and be forming "single" here, they fail to reveal their marital status here.
Anony: Boy focus on ur education,after then make money then make enough money before talking abt girl friend..
deeboi: Pikin wey dem suppose flog make he go read book wan dey follow olosho as girlfriend…
Dee Arinze figo: Be successful in life and all your things will be personal, your wife , girlfriend, common sense. Education is the key to all these. Focus on your studies for now and keep making plans for your future. By the time you succeed finally, many girls will beg to be your personal property. Girls want all their things personal too including their men, but they go for the best bargains; successful rich people or people with good future