Nollywood actress, Ruby Ojiakor has reacted to the criticisms she received over her kitchen and utensils.
Tontrends reported days back that Ruby Ojiakor had shared a video of her preparing stew in her small kitchen. CLICK HERE TO WATCH VIDEO.
The video disappointed many of her fans who felt the actress should upgrade her lifestyle and utensils and dropped the 'village girl' attitude.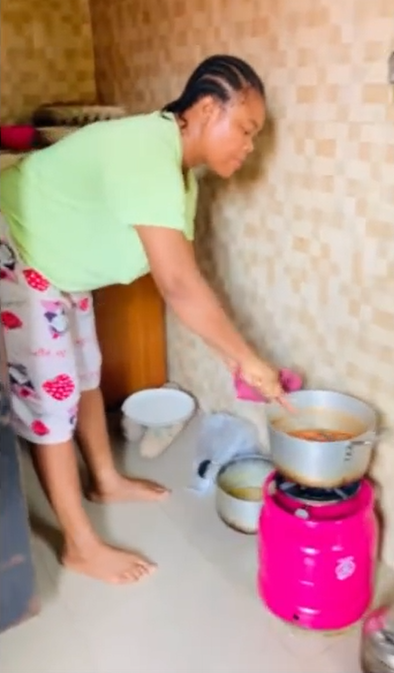 Many deemed the kitchen and utensils, which were looking old and dirty unfit for someone of her status.
Reacting to the criticisms, Ruby Ojiakor apologized to them for trying to live within her means.
She stated that she lives in a 2-bedroom flat in Asaba as that is what she can afford and as such, they have to bear with her.
"For those of you saying, shouting, screaming her kitchen is too small like anthole. Ruby at your level how can you be using such a tiny kitchen?
You guys shouldn't be angry I know your kitchen is like a room and parlor, please don't be angry, that's what I use.
I lived in a two-bedroom apartment in Asaba and that's the size of the kitchen. I only have money for 2 bedroom and that's the size of my kitchen.
And those of you saying I used old utensils, am sorry I have foreign own too but I love to use the old ones".
She added in her caption, "Be You…
Be contented.
Abeg no mind world people ' Dem no get joy".
Post below…