Celebrity auto-dealer, Ikechukwu Ogbonna better known as IVD is celebrating his first birthday without his wife, Bimbo Martins.
Taking to his Instagram page, the embattled socialite shared a photo of him in white attire accompanied by a beautiful note.
Describing himself as a Champ, he expressed gratitude to his creator for adding a year to his age.
"A Champ was born today. Thank you Lord for the gift of life + Nkume 1 of Arochukwu".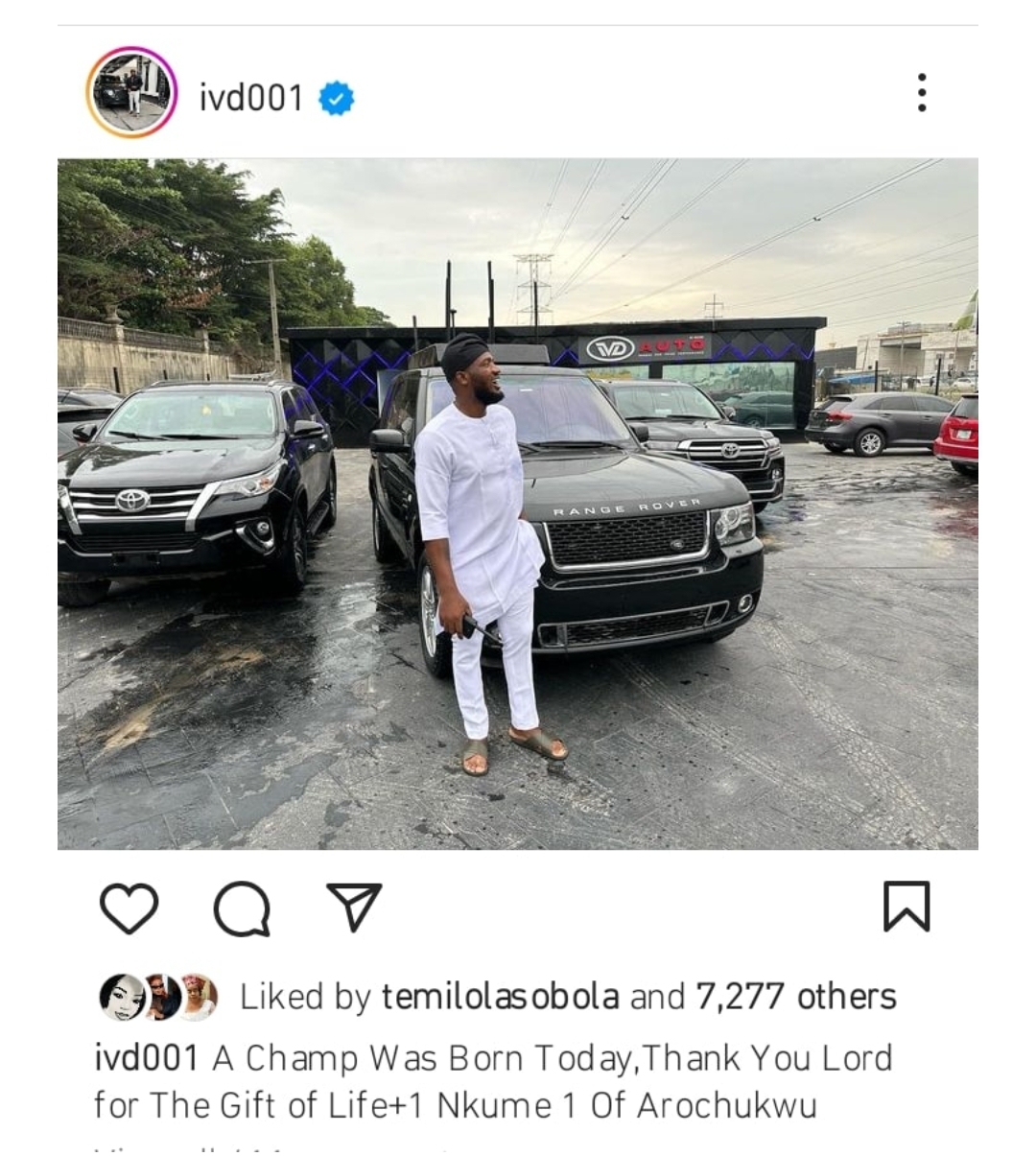 IVD loses wife
Recall that IVD lost his wife, Bimbo on 15th October 2022 after a series of alleged domestic violence.
Following this, the father of five was involved in different controversies; from being accused of murdering his wife, to being fetish, having numerous side chicks, and being responsible for the shooting at Cubana club, amongst other accusations.
Bimbo's death was announced by her sister, identified as Mama Jazz. She specifically fingered IVD as the perpetrator of the young mother's death.
Speaking up about his wife's death, IVD shared videos of his wife damaging his cars. According to him, his wife was fond of unleashing violence anytime they quarreled.
IVD breaks silence
Reacting to the speculations of alleged domestic violence, IVD in a post via his Instagram account talked about how his late wife put up a facade of a personality to the public.
Ogbonna also shared videos of various instants where his late wife assaulted him, destroyed his cars, and burnt his house.
According to him, his wife was fond of unleashing violence anytime they quarreled.
Sharing a cryptic post, he wrote,
"My greatest hurts will be at my funeral, everyone will be like… Bimbo was such a fantastic human, a clown, she's that one person you had on your sos call, she had the biggest heart, very smart, she looked out for her family…. Bobby yen yen yen….. My corpse will wake up and shout "SHUT UP ALL OF YOU AND PUT ME INSIDE THE GROUND LET ME BE WITH LORD" Bobby yen yen yen…. Pablo Escobar na my mate. You didn't get his memo and eulogy at his funeral. I am laughing at my d*mb ass. You see why I am still Alive, I don't even take myself seriously".
The auto dealer took a break from social media and returned with a suicidal note.